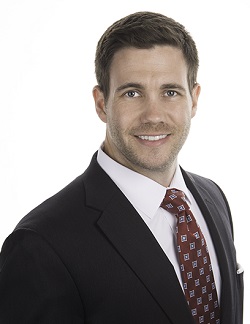 Special to Iredell Free News
Iredell County attorney Bryan A. Corbett has announced that he is a candidate for District Court Judge for Alexander and Iredell counties.
Corbett, a lifelong Republican, filed his notice of candidacy seeking election for the new sixth judicial seat in District 22A. The new judicial seat was created recently by the N.C. General Assembly.
The primary election for this position will be held on March 3, 2020, with the winner beginning a four-year term in January 2021. Candidate filing ends at noon on Friday, December 20.
Corbett was born and raised in Iredell County. He attended both West Iredell and North Iredell high schools before graduating from Alexander Central. He attended Western Carolina University on a baseball scholarship and earned a bachelor's degree in Construction Management and a minor in Business. After graduation, he moved to San Antonio, Texas to help his father's construction company build facilities for the U.S. Armed Forces.
He and his wife, Alexandria Brinkley Corbett, moved back to North Carolina upon his acceptance into Charlotte School of Law—where he graduated Magna Cum Laude in 2015. During law school, Corbett served as senior executive editor of the Charlotte Law Review, as a Charlotte Law ambassador, and as a volunteer at the Charlotte Men's Shelter.
During this time, he completed internships at the Iredell County District Attorney's Office, the Mecklenburg County District Attorney's Office, the U.S. Attorney's Office, and a private law firm located in Charlotte. He is currently a partner at Harbinson, Brzykcy & Corbett, Attorneys at Law, LLP with offices in both Alexander and Iredell counties.
Corbett is the managing partner of the firm's Statesville office located on East Broad Street. The firm engages in a general trial practice, focusing primarily in the areas of criminal defense, family law, personal injury and wrongful death.
In October 2019, Corbett was elected president of the local District Bar Association, which includes all of the attorneys and judges in Alexander and Iredell counties.
He and his wife of nine years, Alexandria, reside in Statesville and are the proud parents of a four-year old son, Hudson Alexander Corbett.
Corbett is an avid outdoorsman who enjoys hunting, yard work, and making his infamous "Jailhouse Jerky." He also sponsors and is a team member of the Mooresville championship softball team "Motion to Strike."