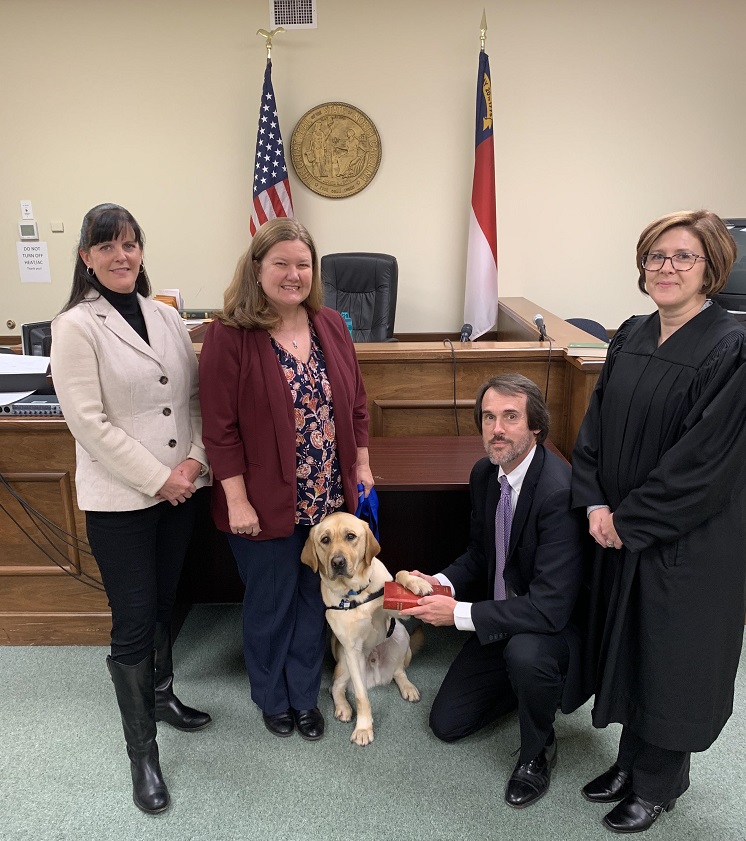 District Court Judge Christine Underwood "swears in" Oakley on Wednesday as the newest member of the District Attorney's Office staff. Pictured (from left) are District Attorney Sarah Kirkman, Assistant District Attorney Crystal Beale, Oakley, Assistant District Attorney Scott Cranford and Judge Christine Underwood.
Special to Iredell Free News
District Attorney Sarah Kirkman introduced Oakley, the newest member of the District Attorney's Office for Alexander and Iredell counties, to the public this week.
Oakley is a yellow lab/golden retriever facility dog who has undergone a rigorous two-year selection and training process at Canine Companions for Independence, a nationwide organization that provides quality service, assistance and facility dogs to those who need them, at no cost to the recipient.
Canine Companions has been doing this for over 40 years and is recognized worldwide for the excellence of its dogs.
Oakley's job in the District Attorney's Office is to provide comfort to child victims throughout the court process, helping them to find the strength and confidence to make their voices heard.
The District Attorney's Office is always striving to find ways to help these children through what will probably be some of the most traumatic times in their lives. Oakley will be instrumental in that effort.
Assistant District Attorneys Crystal Beale and Scott Cranford have been certified as Oakley's handlers by Assistance Dogs International, which sets forth guidelines for assistance dog programs.
Beale and Cranford traveled to the Canine Companions for Independence campus in Orlando, Fla., to attend a Team Training Class. This class was an intensive two-week residential course that covered proper commands, handling of the dog, safety and welfare. The two will also have to undergo periodic recertification.
Before Oakley participated in the Team Training Class, he underwent a selection and training process to ensure that he had the temperament and the skills to be a facility dog. Oakley has a calming and comforting presence and is sure to be a great asset to the District Attorney's Office staff as they help child victims of crime. Other jurisdictions in North Carolina and across the country have realized the benefit of facility dogs like Oakley and have begun using them in the trial process.
Learn More
For more information about Canine Companions for Independence, visit www.cci.org.