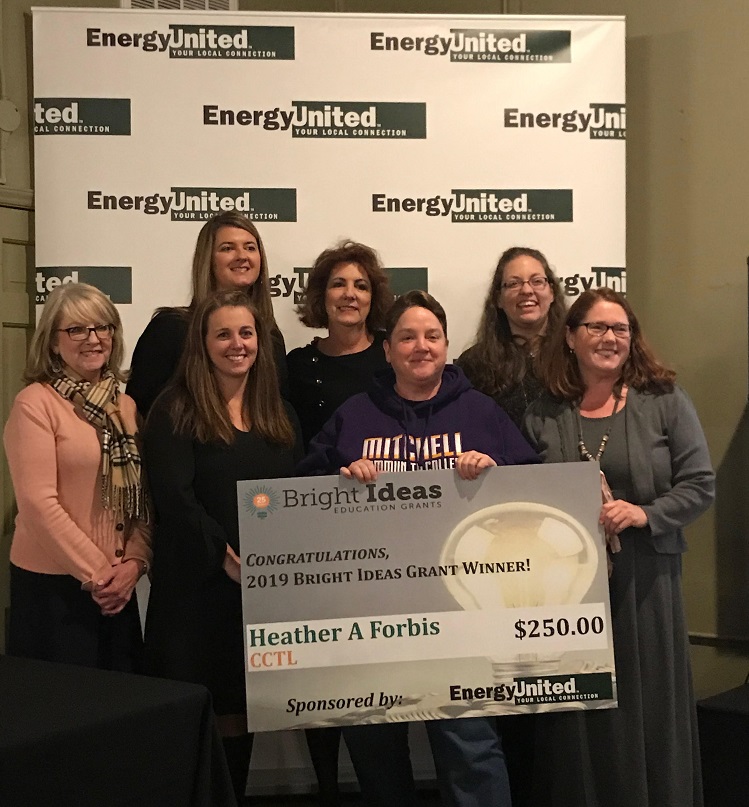 BY MIKE FUHRMAN
EnergyUnited officials presented local teachers with more than $10,000 in Bright Ideas grants to fund an assortment of innovative classroom projects.
A 12-person committee evaluated more than 150 applications from teachers in EnergyUnited's service area and selected 45 winners.
Twelve of the winners were from the Foothills Region, which includes Alexander and Iredell County. They winners were treated to a lunch at Twisted Oak American Bar & Grill on Friday.
Winning ideas included coding software, remote library services for early college students, equipment for filmmaking, and materials to study global warming.
"It is very evident the passion and concern you have your students and classrooms," Roger Davidson, who helped evaluate the applicants, told the winners. "There were some wonderful ideas."
EnergyUnited Chief Operating Officer John McMurray and Chief Strategy Officer Thomas Golden presented the checks to the grant winners.
This year marks the 25th anniversary of the Bright Ideas program, which provides funding for projects in all grade levels and subject areas. Since 1994, EnergyUnited has contributed more than $850,000 to Bright Ideas.
Maureen Moore, communications manager for EnergyUnited, said the electric cooperative was honored to support educators who have devoted their lives to inspiring young people.
"Teachers make such a hug difference in the lives of children — from 5-year-old to 25-year-old children," Moore said.
Bright Ideas Grant Recipients
♦ Beke Lindsey, Bunker Hill High School
♦ Nicole Lowe, Northview IB School
♦ Adrian Reece, Central Elementary
♦ Natalie Tribble, North Iredell High
♦ Kim Lowman, West Alexander Middle
♦ Ryne Cooper, West Iredell High
♦ Heather Forbis, CCTL
♦ Erin Lewis, Ellendale Elementary
♦ Adonna Dickerson, Central Elementary
♦ Linda Dearman, Cool Spring Elementary
♦ Beverly Rufty, ASEC/Mitchell Community College
♦ Adrian Bustle, North Iredell High