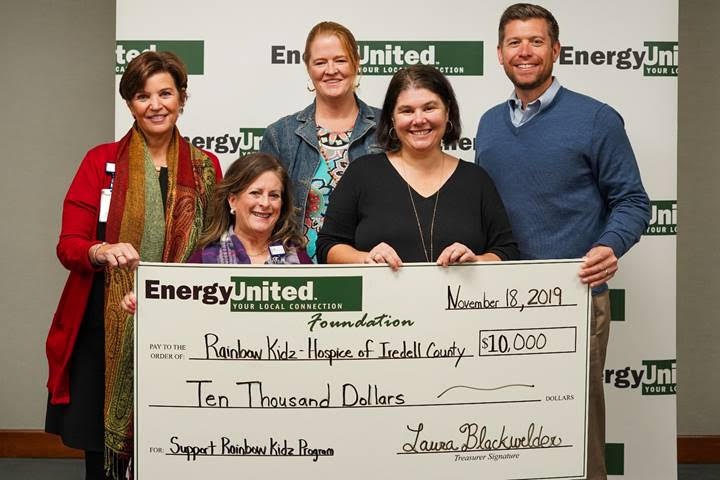 Pictured (from left) are Terri Phillips, CEO/president of Hospice & Palliative Care of Iredell County; Leigh Ann Darty, executive director of Rainbow Kidz program for Hospice & Palliative Care of Iredell County; Debra Citta, EnergyUnited Foundation administrator; Amy Fuhrman, director of Development and Community Outreach for Hospice & Palliative Care of Iredell County; and Thomas Golden, chief strategy officer and vice president of Energy Services for EnergyUnited.
Special to Iredell Free News
The EnergyUnited Foundation has contributed $10,000 to Hospice & Palliative Care of Iredell County to provide support for its Rainbow Kidz program.
Rainbow Kidz is a unique community resource dedicated to meeting the specials needs of grieving children and their families. Rainbow Kidz programming is offered at no cost to families or schools and encompasses an array of services provided by licensed clinical social workers.
"The EnergyUnited Foundation is proud to support our local hospice organization through this donation for the Rainbow Kidz program," said Debra Citta, EnergyUnited Foundation administrator. "Rainbow Kidz is an incredibly impactful program that touches the lives of so many people living in Iredell County."
Rainbow Kidz offers many different services, including: Camp Rainbow — a free, week-long camp for children experiencing grief and loss — and a grief support program for children at the Boys & Girls Club of the Piedmont. Rainbow Kidz also offers weekly in-school support group sessions for those who have experienced a major loss, emergency community bereavement support, one-on-one grief counseling for children, grief support for infant loss and specialized care for children and families undergoing palliative or hospice care.
"We are very fortunate to receive this grant from the EnergyUnited Foundation," said Leigh Ann Darty, Rainbow Kidz Director at Hospice & Palliative Care of Iredell County. "This funding will help us provide program materials to support in-school and individual grief counseling programs."
About the EnergyUnited Foundation
The EnergyUnited Foundation is a voluntary, member-funded non-profit organization supported by EnergyUnited's Operation Round-Up program. Over 70,000 EnergyUnited members choose to participate in the program by "rounding up" their electric bills each month. The maximum monthly contribution for an individual member with one account is 99 cents. All of these small contributions are pooled together in a single fund managed by the EnergyUnited Foundation to support needy individuals, families, and non-profit organizations like Hospice & Palliative Care of Iredell County that complete an application explaining the reason and purpose for their requested grant.
About EnergyUnited
EnergyUnited Electric Membership Corporation (EMC) is the largest electric cooperative in North Carolina serving nearly 131,000 metering points. Headquartered in Statesville, EnergyUnited provides electric service in portions of nineteen counties in west central North Carolina which include Alexander, Cabarrus, Caldwell, Catawba, Davidson, Davie, Forsyth, Gaston, Guilford, Iredell, Lincoln, Mecklenburg, Montgomery, Randolph, Rockingham, Rowan, Stokes, Wilkes and Yadkin. EnergyUnited Propane provides products and services to more than 24,000 residential, commercial and industrial customers in 100 counties across Virginia, North Carolina and South Carolina. Visit EnergyUnited online at www.energyunited.com to learn more about our electric and propane businesses.