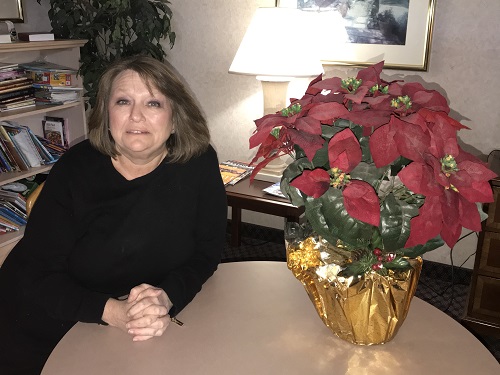 Denise Sharrow has been helping homeless families for the past three years.
BY BRANDY TEMPLETON
Denise Sharrow has worked at the Brookwood Inn in Statesville for three years.
During that time, she's seen the motel transform from a "room for the night" establishment to a refuge for many local homeless families. As the front desk manager, she's seen evidence of their struggle and grown increasingly determined to help them.
Sharrow has prepared Thanksgiving and Christmas meals for many of the homeless families since 2016.
"I used my own money and had some road workers donate ingredients," she said of the first meal for 15 families.
Sharrow rented an oven and put it in the back of the motel office, cooking turkey, ham and dressing for her guests.
Last year she fed 25 families, including 54 children. Now, with the help of local churches and others, Sharrow is expanding the effort to serve more transient families.
"There's a huge need," she said.
Sharrow is working closely with social worker Tonya Reid, who spearheads the McKinney-Vento program for Iredell-Statesville Schools.
"It's created for children who live in motels or are homeless," Sharrow said.
There are more than 300 homeless students in I-SS, according to district officials.
When she first arrived in Statesville, Sharrow had no idea that so many families lived in motels and that they were considered homeless. Some of the families have been evicted from rental homes; others cannot make ends meet on one income.
"Most of these families work, but do not make enough money for traditional housing," Sharrow said. "Some can barely afford the things they need."
At the Brookwood Inn, weekly rates include electric, water, cable and internet service.
"Everything is included and it's easier for families to afford," Sharrow said.
The struggle is heart-breaking to witness. Parents regularly ask her for necessities such as underwear or socks.
"'l'll reach out and ask if anyone wants to donate," Sharrow said.
People send her boxes of clothes and gift cards to help with her mission.
Sharrow is determined to help erase the stigma for the families living in motels by helping any way she can.
"I'll do anything I can do to help families get on their feet," she said.
She feels called to help those who need it the most. She also takes the opportunity to share the gospel.
"God helped me," Sharrow said. "And now God's put me on this path to help others. It's not something I set out to do."
She said she can see Christ working in the families' lives too.
"We're a small community here," Sharrow said. "The families look after each other's kids and cook for each other."
She's hopeful that more families will transition to other housing because of the help they've received at Brookwood.
"We only have three families left from last year," Sharrow said. "I help them with resumes, job searches, and budgeting, so they can move up."
She hopes the community will continue to step up to help these families.
Statesville Animal Hospital is sponsoring Thanksgiving dinner this year, and anonymous donors and several churches have stepped up to help with Christmas.
"South River Baptist is coming to make pictures and frames for the kids, and some ladies are making ornaments and having a pizza party," she said.
WANT TO HELP?