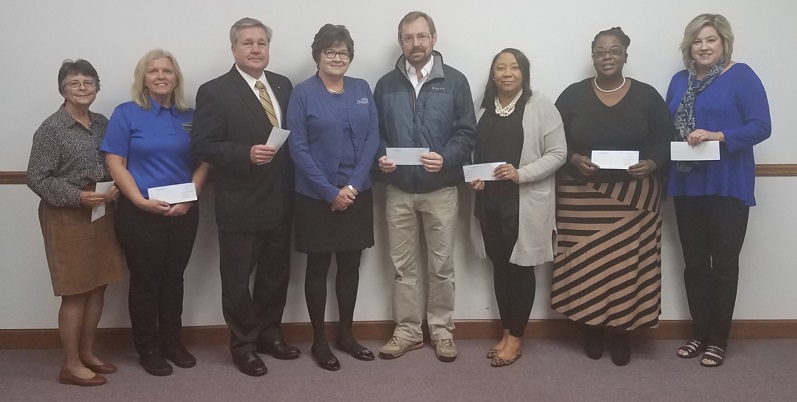 Special to Iredell Free News
Seven area agencies are feeling especially merry this season after receiving their share of the Statesville ABC funding designated for substance abuse program assistance.
This year, the following agencies received a share of the $58,500 total contribution:
♦ Aftershock Youth Empowerment;
♦ Boys & Girls Club of the Piedmont;
♦ Gemstone District Scouts;
♦ Fifth Street Shelter Ministries;
♦ Iredell County Emergency Medical Services;
♦ Piedmont Mediation Center; and
♦ SCAN of Iredell
Each year, the Statesville ABC board receives requests from local agencies involved in the assessment, intervention, treatment and referral of alcohol and drug related issues in the community.
"We are committed to the funding of important programs that help with and prevent substance abuse issues," said Michelle Rokes, Statesville ABC Board member. "The board is diligent in running an efficient operation so that we can put money back into the community."
Aftershock Youth Empowerment is receiving funding for the first time to be used for substance abuse and alcohol education workshops and events for students in Iredell County. This organization works with homeless students to create field trips and events that allow them to step out of some environments where alcohol and substance abuse is common.
The alcohol education grant is used for the SMART Moves Program in the Boys & Girls Club. The SMART (Skills Mastery and Resilience Training) Moves program focuses on prevention and education programs teaching youth decision-making and assertiveness skills to help them make better choices.
The Statesville Area Scout Strong Initiative is a primary prevention program that uses physical and emotional fitness aspects of the Scouting program to teach skills to resist drugs and alcohol and how to make healthy choices.
The ABC grant also helps the people served by Fifth Street Ministries by coordinating access to healthcare and providing transportation to treatment programs. Fifth Street hosts AA meeting on the main campus and provides individual and group therapy opportunities led by licensed therapists.
Another first-time recipient is the Iredell County Emergency Medical Services. Its Community Response Support Team links those in the community from substance use to the services they need and the funds will be used to continue operating this successful program.
Piedmont Mediation Center offers a number of programs to help individuals with substance abuse issues break the cycle of abuse, reduce recidivism and educate them on the risks involved with substance abuse. The organization also works to create more educational and leadership opportunities and enhance life skills while helping with treatment and recovery.
The ABC funding helps SCAN (Stop Child Abuse Now) provide a weekly Substance Abuse/Parenting group for mothers and is designed to show the effects substance abuse has on parenting.
"The ABC Board is very appreciative of the work these organizations do to help with and prevent substance abuse issues," said Tip Nicholson, general manager of the Statesville ABC Board.