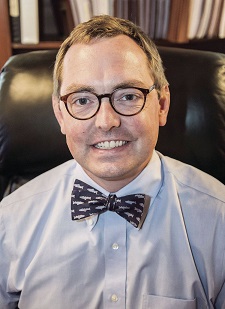 Special to Iredell Free News
Local attorney and longtime Iredell County resident Will Long filed paperwork in Raleigh on Thursday to formally enter the Republican Primary in his bid to serve as Superior Court judge in Judicial District 22A, which includes Iredell and Alexander counties.
"The Superior Court judge's role is one of the most impactful positions in our entire community," Long said in his campaign announcement. "Decisions are made every day that directly impact the well-being not only of people in the courtroom, but also the community as a whole. I believe the variety of my life experiences inside and outside of the courtroom will make me an effective judge at the Superior Court level.
"I was raised here and have always been proud to call Iredell County home. If I am fortunate enough to be elected to serve as a Superior Court judge, I will dedicate all that I have to benefit the Iredell and Alexander County communities."
Long attended Iredell-Statesville Schools, graduated from Statesville High School, and then graduated from the University of South Carolina. Will worked for Piedmont Bank in Mooresville for a number of years prior to attending Wake Forest University for law school and graduate business school, obtaining both a master's degree in business administration and a Juris Doctor degree.
Following law school, Long worked for a number of years as a private practice attorney, handling criminal and civil cases throughout North Carolina — primarily in Raleigh, Winston-Salem and most recently in Statesville. His professional career has involved working with individual and business clients to assist them through complex and life-changing litigation, estate, real property, and criminal law issues. Previously, he has served as an attorney to the Iredell-Statesville Schools Board of Education.
Long presently serves as the director of Development for Fifth Street Ministries, a nonprofit organization in Statesville dedicated to aiding men, women and children in our community who are in genuine need of food, clothing and shelter. He has also been an active volunteer, wrestling coach, baseball coach and member of the Board of Directors at Power Cross Ministries, where hundreds of at-risk youth, are provided with tutoring, bible study, dinner and athletic training. He is a past member of the Board of Directors at the Iredell Museums, currently teaches various business and law classes at Mitchell Community College, and has served as a part of the Kairos prison ministry team at the Alexander County Correctional Institution.
LEARN MORE
For more information about Will, or to contact him directly, people can find him on Facebook at www.facebook.com/VoteWillLong/ or follow him on Instagram at @VoteWillLong.