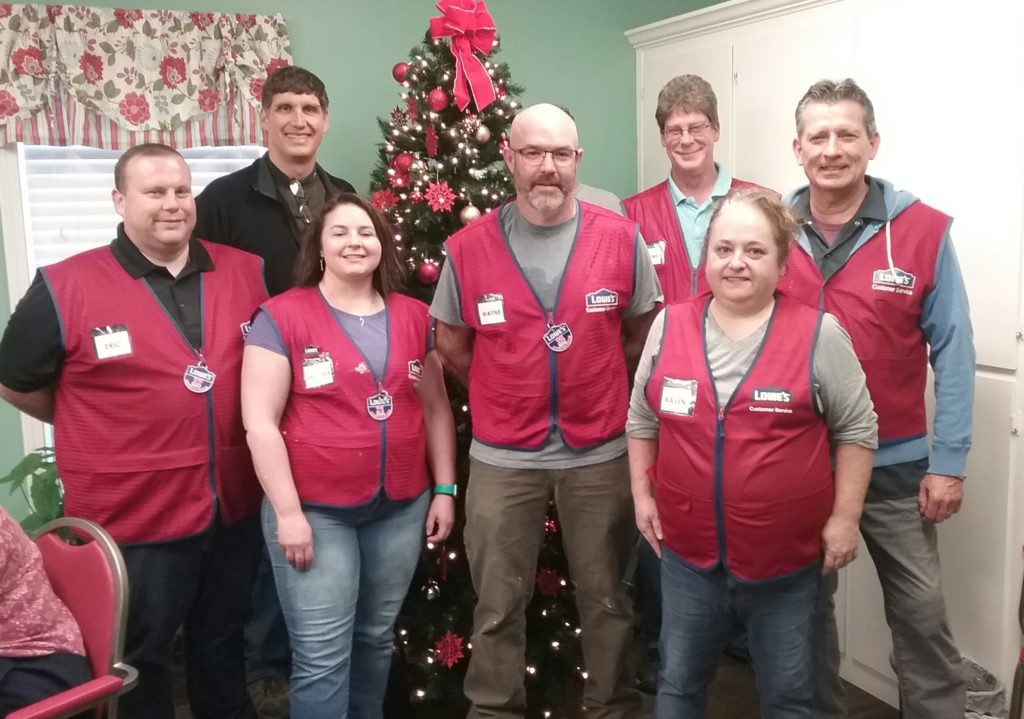 Employees from Lowe's Corporate Headquarters helped with painting and landscaping at ElderCenter as part of their Giving Tuesday and Lowe's Community Impact Program.
Special to Iredell Free News
Lowe's Home Improvement kicked off Giving Tuesday this year by working with local nonprofits on building improvement projects in the area.
Nine members with Lowe's corporate team in Mooresville spent the day at ElderCenter Adult Day Care priming, painting and landscaping in their facility.
Lowe's employees Amanda Johnson and Karen Trivete planned and coordinated the project at ElderCenter. Each Lowe's team member played a role in working together to complete the repainting of ElderCenter's kitchen and exercise room. Other Lowe's staff helped with their landscaping maintenance.
"We were so thankful that Lowes offered to help with a few of the final steps of our building improvement project," ElderCenter Director Tammie Money said. "We rely on our community to assist with projects like these. Our clients and their families are not able to assist us with more physical types of work at the center. As a nonprofit, we are so grateful for the generosity of Lowe's and other companies in our area who help nonprofits like us so we can focus on the care we provide to our senior population."
When asked about helping ElderCenter with this work, Wayne Goff, facility director from Lowe's, offered a heartfelt message: "From 1 Corinthians 13, 'And now abideth faith, hope, charity, these three; but the greatest of these is charity.' I believe as long as we are able, it is within us to help others along our journey in this world."
ElderCenter, the only adult day facility in Statesville, helps families care for an aging family member who needs companionship or supervision during the day. The activity program has something for everyone offering breakfast and lunch, entertainment and music, games and puzzles, craft projects and field trips.
LEARN MORE
For more information please call ElderCenter Adult Day Care at 704-873-0720, visit their website at ElderCenterAdultCare.org or stop by at 502 Brevard Street Monday through Friday from 8 a.m. to 5 p.m.