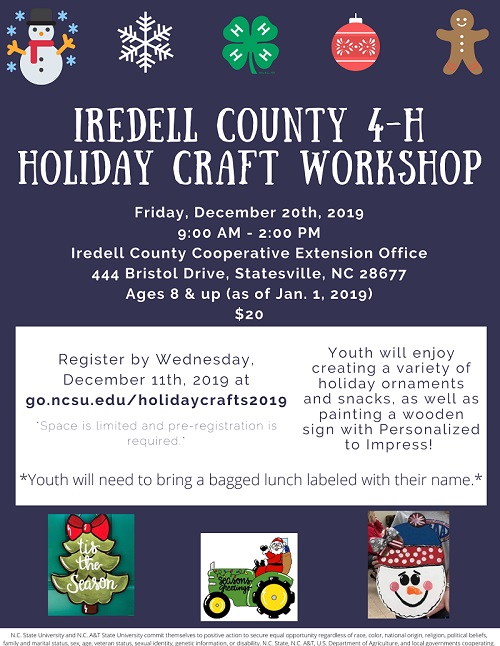 FROM STAFF REPORTS
The Iredell County Cooperative Extension Office will present a 4-H Holiday Craft Workshop for children and teens on December 20.
The event will take place from 9 a.m. to 2 p.m. at the Iredell County Cooperative Extension Office, 444 Bristol Drive in Statesville.
Youth, ages 8-18, will be making a variety of holiday ornaments, snacks and will be painting a wooden sign with Personalized to Impress. Participants will need to bring a bagged lunch with them.
Registration is due by December 11 and can be filled out at go.ncsu.edu/holidaycrafts2019. The cost is $20.
LEARN MORE
Contact Taylor Jenkins at taylor_jenkins@ncsu.edu) or Kelly Pierce (kelly_pierce@ncsu.edu) with questions, or call 704-878-0507.
Check out Iredell County Extension post on Facebook for more information about the workshop