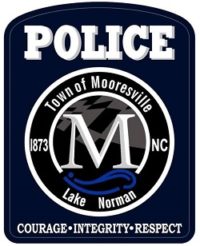 FROM STAFF REPORTS
The Town of Mooresville has received applications from 40 individuals interested in becoming the town's next police chief.
"We are very pleased with the pool of candidates and have a very good pool from which to make a selection," the town's Human Resources Department said in response to questions from Iredell Free News about the search.
Candidates include qualified female and minority applicants, HR officials said.
The position was advertised in local media outlets, as well as the Carolina Jobs Network, North Carolina League of Municipalities, and North Carolina Law Enforcement Women's Association. The application deadline was December 9.
Town Manager Randy Hemann, Fire Chief Curt Deaton and Deputy HR Director Tiffany Shelley will participate in the first round of interviews with the most qualified applicants.
The salary range for the position is $82,428 to $128,914.
Police Chief Damon Williams resigned at the end of November, more than five months after being placed on paid administrative leave while an outside agency investigated complaints of a hostile work environment during his tenure.
Ron Campurciani was appointed interim police chief while Williams was on leave. Campurciani has 34 years of law enforcement experience, including work as the executive director of the Western Massachusetts Police Chief Association and chief of police in West Springfield, Mass.