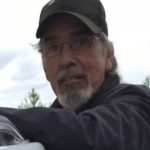 Terry Rondal Campbell, 70, of Hamptonville, N.C., passed away Friday, December 13, 2019, at his residence. Born in Iredell County on January 11, 1949, he was the son of the late James Campbell and Mary Madeline Swain Campbell.
Terry worked in construction, mainly installing gas lines and piping. He loved restoring antique trucks, especially A and T models. He loved spending time with his family, especially his grandbabies, and his dog, Sissy.
In addition to his parents, he was also preceded in death by one brother, Ricky Dale Campbell. Those left to cherish his memory are his wife, Edna Mae Gregory Campbell; sons, James R. Campbell (Billie), Timothy G. Campbell, Phillip S. Campbell, Joe Coleman (Evelyn) and Mark Coleman (Kat); grandchildren, Tyler, Kellie, Chris, and Shyane; great-grandchildren, Raelyn, Addilyn, Sam, Titan, Noah and Aaron. He is further survived by his brothers, Michael and Watsel and his sisters, Madeline, Kathy and Tammy.
There will be no formal services at this time. Bunch-Johnson Funeral Home is serving the Campbell family.