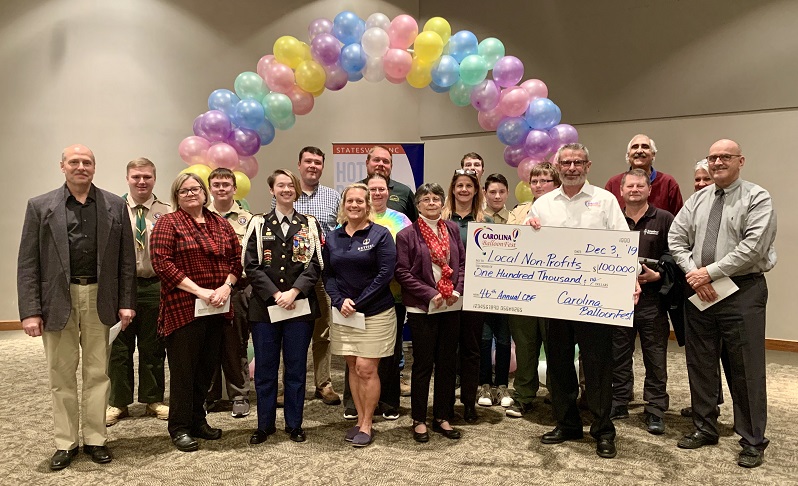 Representatives of local nonprofits and community agencies who received a contribution from National Balloon Rally Charities pose for a photo with Executive Director Bud Welch Tuesday night.
Special to Iredell Free News
National Balloon Rally Charities took Giving Tuesday to a whole new level.
During its annual Sponsor & Volunteer Celebration, the nonprofit celebrated the success of the 46th Carolina BalloonFest by awarding a total of $100,000 to more than two dozen nonprofits and community agencies in the surrounding area.
"I'm thankful that we live in a supportive community, in which local businesses benefit our event because they see the good they can be a part of," Executive Director Bud Welch told a large crowd of volunteers, sponsors and representatives of the nonprofits.
"I'm thankful for the almost 1,000 volunteers that take it upon themselves to personally ensure a successful event through their time and service," he added.
Throughout the evening, Carolina BalloonFest board members and volunteers thanked the hundreds of individuals that volunteer their time over the weekend to assist with the festival, and the dozens of sponsors and partners who support and contribute to the growth of the second oldest balloon festival in the country.
The 46th Carolina BalloonFest featured crowd-favorites like the mass ascension of over 50 hot air balloons taking fight on Friday and Sunday afternoon, a first-ever static display glow on Friday night and a challenging hot air balloon competition on Saturday morning. In addition to the ballooning activities, the crowd was entertained by live music on two stages, aerialist circus acrobatics and another first: sky-divers.
Overall, the festival successfully hosted an estimated crowd of 35,000 attendees despite impending bad weather predicted for the weekend.
"As our event turns 46 years old, to note that our festival has this kind of community support is not only encouraging — it's fuel for our burner to do bigger and better things in the future," Welch continued as he thanked all who dedicated their time, service, patronage, sponsorship and/or support to the festival.
"Without you, our donations would not be possible."
Nonprofits/Community Agencies
The following organizations will receive donations:
• American Cancer Society – Relay for Life
• Balloon Federation of America – Youth Scholarship Program
• Boy Scout Troop 174
• Boy Scout Troop 607
• Boy Scout Group 609
• Boy Scout Group 377
• City of Statesville
• Civil Air Patrol Iredell Squadron
• Crosby Scholars
• Dove House
• Elder Center, Inc.
• Fifth Street Ministries
• Girl Scouts Peaks to Piedmont Region 5
• Harmony Elementary School Library
• Hospice of Iredell County
• In His Steps
• The Iredell County Amateur Radio Society (ICARS)
• Iredell County Special Olympics
• Iredell SCAN
• Life Span Circle School
• Mitchell Community College Endowment for Excellence
• Mitchell Community College Endowment for Excellence: Bev Hendrick Endowment
• My Sisters House
• NIHS Cheerleaders/Athletics
• NIHS JROTC
• Statesville Chamber of Commerce
• Statesville Kiwanis
• United Way of Iredell County