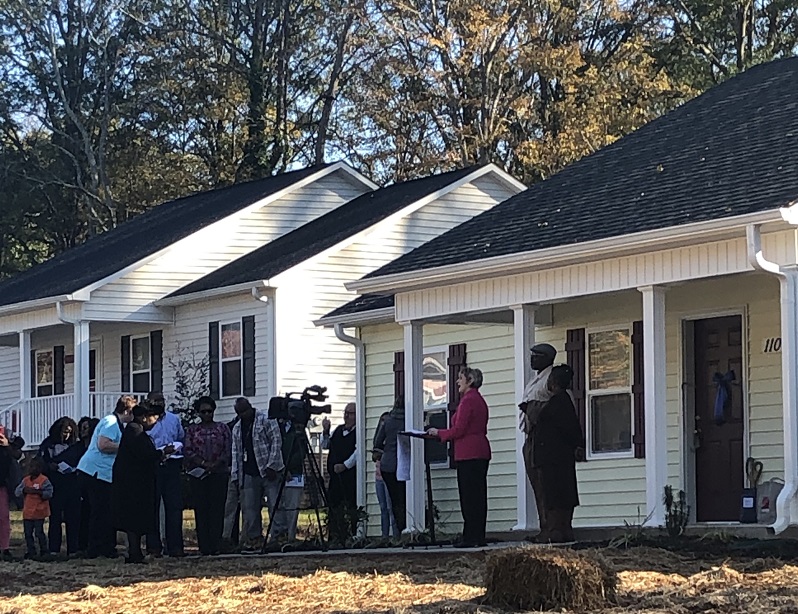 Our Towns Habitat for Humanity and First Presbyterian Church celebrated the completion of the Fourth Creek Village neighborhood on Sunday afternoon.
BY STACIE LETT CAIN
A ten-year story turned the page on its last chapter on Sunday as Our Towns Habitat for Humanity cut the ribbon on the last house in its Fourth Creek Village neighborhood.
Neighbors and friends gathered as Cheryl and Clifford Ramseur were given the key to their new home from Rhyne Scott of Statesville's First Presbyterian Church, which sponsored the home build.
"This has been a project near and dear to many of us and I want to thank Habitat for Humanity for being amazing partners in this venture," Scott said. "We are so extremely pleased with all that we have been able to do."
First Presbyterian Church purchased the track of land, known as Fourth Creek Village, on Partnership Way located behind the Post Office on South Oakland Street. And there began the ten-year commitment to providing safe, affordable homes for eligible residents in Statesville who were willing to put the work in to see their dreams of homeownership come to life.
"Clifford Ramseur, although facing health issues, has logged over 800 sweat equity hours to see his dreams of owning a home for his family happen," explained Chris Ahern, CEO of Our Towns Habitat for Humanity. "That is double what we require to secure a home. He was that dedicated."
Cheryl Ramseur said her favorite aspect of the new house was the amount of closet space. After living in a one-bedroom trailer with one closet, the house was more than enough to make her smile.
With five children and 15 grandchildren, the couple will be able to put the additional living space to good use.
"For the first time, for this family, they can gather this year for the holidays in a safe, warm, happy home," Ahern explained. "And that is why we are committed to doing what we do."
Where some see an ending, others see a new beginning.
"We are already talking about starting a new neighborhood," Scott said when asked what the next step in this journey was. "I don't know how soon it will happen, but we are not finished helping people secure the dream of a safe home for their families to live in. This has been such a wonderful project. We look forward to what happens next."