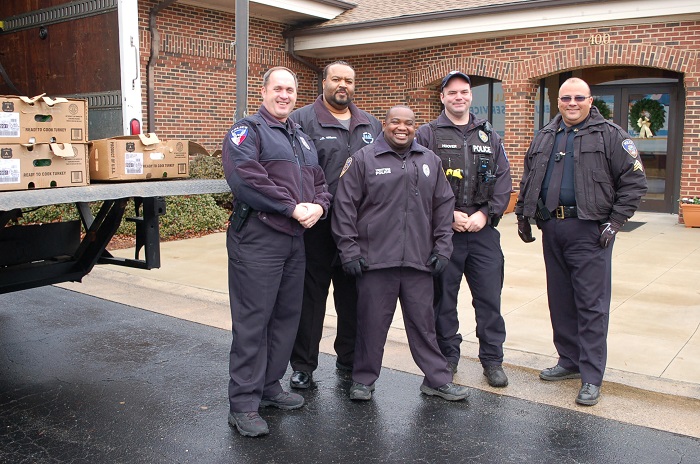 Statesville Police Department Chan Austin, P.A.C.T. Director J.D. Williams, and officers Scott, Hoover and Linden assisted in the Troutman turkey giveaway stop.
BY DEBBIE PAGE
debbiepage.iredellfreenews@gmail.com
Spreading holiday cheer at its 4th Annual P.A.C.T. Turkey Drive, the Police and Community Together coalition gave away 140 turkeys throughout Iredell County on Saturday, December 14.
A caravan of law enforcement officers and the turkey truck made stops at the Mooresville, Troutman, and Statesville police departments, the Iredell County Sheriff's Office, and in Harmony at the Matthew 25 organization.
P.A.C.T. Director J.D. Williams also thanked the N.C. Highway Patrol for its participation in and support of the community giveaway. Statesville Police Department's Cpl. Chan Austin and Officer Hoover and Troutman Officer James Scott and Sgt. Linden helped pass out turkeys at the Troutman stop.
Williams said that the group wanted to create a bridge of communication with the community that sometimes feels targeted by police so that they will feel comfortable coming to a law enforcement agency, meeting the department heads, and creating a working relationship with them when issues arise.
"Just from a department standpoint, being involved with it is a good community outreach and gives us an opportunity to be out in the community and be approached in a good environment," said Austin, who wants folks to feel comfortable approaching officers with concerns and questions.
Austin also enjoys the chance to help give back and help those in need.
Williams thanked area McDonald's franchise owners Melissa and Mike Neader for their support of the event, Harvey Holdings for the use of the refrigerated truck, and Scott Byers at Walmart for his assistance in acquiring and discounting the turkeys.
For the third year, the group also held its free community Christmas dinner, in association with Grilling for God Ministries, on Friday, December 19, with 500 meals available to the community in the Shelton Avenue parking lot near Yokefellow Ministries.
Members of the law enforcement community dished out the full chicken dinners to those attending to emphasize that the officers serve the South Statesville community. "Fellowship and breaking bread with them, chewing the fat with them helps promote healthy relationships," said Williams.
"It's never supposed to be us against them. We try to curb that philosophy to be a champion of the community, not an adversary. The community cannot survive without us, and we cannot survive without them."