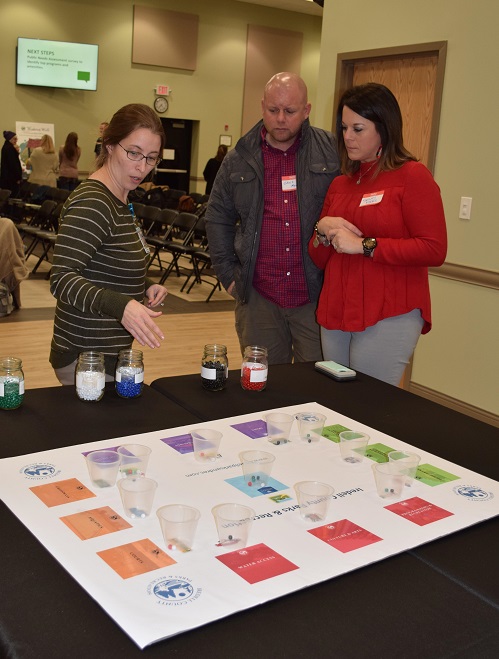 BY DEBBIE PAGE
debbiepage.iredellfreenews@gmail.com
At the Iredell County Parks and Recreation Department's community forum on Thursday night, Director Michelle Hepler welcomed about 30 community members, explaining the need for their help in revamping the 2008 park master plan to one more responsive to the citizens' current desires and needs and that will also assist staff in acquiring grants for new parks, amenities and facilities.
The staff's vision is to create a blueprint for providing quality recreation services, parks, and facilities. The county currently operates six facilities for its 170,000 residents as well as shared use facilities with schools and intra-government agreements with towns for field use within the county.
The goal is to have a final draft of the new master plan ready to present to the Iredell County Board of Commissioners on April 21.
The county is enlisting the help of GreenPlay, a consulting firm that is providing a team of experts to evaluate the current state of the county's recreation facilities and to gather the data to create a master plan that reflects the community's views.
Since 1999, GreenPlay has completed over 525 projects in 46 states and U.S. territories for governmental agencies and private companies.
Greenplay's Lisa Wolff, who retired after 31 years of experience with the Burlington, N.C., Parks and Recreation Department, will lead the Iredell team in the four-month process. So far, 12 focus group meetings have been held (with 67 individuals participating) and a county leadership session attended by 19 county decision-makers.
GreenPlay and county staff will take a deep dive into the community, the county's current assets, and citizens' desires for parks and recreation with the help of Stewart, Inc., an engineering, design and planning firm located in Charlotte, and RRC Associates, a recognized leader in consumer intelligence and strategic market research for the tourism and recreation industries since 1983.
In January, RRC will send out a statistically valid survey to randomly selected Iredell citizens, who may complete the paper survey and return in it in the provided addressed, stamped envelope or complete the survey online using an identifying code on the survey.
Other residents will also be able to take a similar non-valid survey on the county website in January for informational purposes.
"We have no preconceived ideas," said Wolff. "We are here to learn and help."
The community engagement process will include technology-based outreach (social media, online surveys, and website tools), surveys, onsite data collection, focus groups, public meetings, and stakeholder and key leader interviews.
GreenPlay will also conduct a needs assessment with staff, looking at areas such as fees and charges, operations, facilities, and department guidelines.
CHALLENGES
During the first week of information gathering in focus groups, GreenPlay began learning what leaders and citizens perceive as challenges for the county's parks and recreation plan.
Some mentioned the low budget of the department, only $1.7 million of the county's $262 million budget, or roughly .5 percent. The national recommendation for parks and recreation spending is $78 per resident; Iredell County's rate is about $10 per resident.
Other challenges were the difficulty of maintaining revenue neutral (self-funding) programs, the need for practice fields and courts for all types of sports, the maintenance needs of current facilities, and the need to find sustainable funding sources instead of reliance on grants.
Wolff also mentioned that most county Parks & Recreation facilities were not Americans with Disabilities Act (ADA) compliant, which the federal government has required in a transition plan. Wolff has gotten no answers from county officials about their plans to comply with this requirement.
Other noted challenges were the need for more communication with the public about available programs and current amenities, the desire for more programs and facilities geared to teenagers (i.e. parkour, challenge fitness course), and the acquisition of land for future facilities across the county, especially in underserved areas in the west, north, and south (outside of Mooresville city limits).
The lack of group exercise class space and programs during the day and evenings was mentioned, as well as the need to develop an even stronger partnership with the county's school systems to help develop walking trails and other amenities that could be utilized by the public outside of school hours.
Another challenge is the department's small 11-member staff, with three assigned to athletics, three to programs, three to the recreation center, one membership support specialist, and Hepler. Staff noted that the department had 533 volunteers through youth athletic associations that made many programs possible.
CELEBRATIONS
The focus groups also commented on things that are going well for the county's parks and recreation, including the beginning of development of Jennings Road Park, the new recreation center (formerly Barium Springs YMCA), and the recreation center programs for all ages.
They also lauded the staff's collaboration, listening skills, and friendliness and its ability to do well with what resources they receive. The focus groups were also complimentary of the youth soccer program, the ropes course, and the department's trips for adults.
COUNTY'S ROLES
The focus group feedback overwhelmingly favored providing more indoor facilities and perhaps revisiting fees and agreements, adding more outdoor facilities with a focus on connectivity through greenways, providing more programs (with fee analysis where needed), and building more parks, with emphasis on preservation of green space for the future.
The key stakeholders that must come together to make any plan a success are from a wide variety of sources, including political office holders, local government agencies (Health Department, Department of Social Services, etc.), local healthcare entities, private business and industry partners, the school systems and Mitchell Community College, athletic associations, non-profit agencies (United Way, Get Fit Iredell, etc.), and the county's citizens.
FUNDING SUPPORT
Focus group participants also gave suggestions for acquiring more funding to get recreation spending up to nationally recommended levels. Ideas included public-private partnerships, charging fees to developers of new subdivisions, revisiting user fee policies, grant funding, a parks and recreation bond, or a sales tax increase.
Another suggestion was to use nearby amenities (Lake Norman, Carowinds, U.S. Whitewater Center, professional teams in Charlotte) to draw people to the area to recreate in Iredell County.
PRIORITIES
Those participating on the focus groups also identified a number of priorities, in no particular order. They suggested that all the stakeholders and entities become more interconnected with enhanced communication and collaboration.
Improving funding allocations by the county and balancing the staff to meet the needs of the community should be an important focus, according to participants, as well as creating a large-scale, multi-use facility whose construction and operational costs could be offset by revenue generation.
Another priority was improving awareness of existing county parks, facilities and programs and creating one governing organization for all youth athletics to create more uniformity and to address the issues of a declining numbers of volunteers.
Other suggestions included developing land the county already owns and upgrading existing facilities, ensuring equitable distribution and more inclusion for all ability levels at facilities and in programs, and researching a grant specialist opportunity.
Getting facilities and parks ADA compliant was also mentioned as an important goal. Selling the value of health, fitness, and wellness was another recommended priority.
FORUM FEEDBACK
After hearing the data collected so far, forum attendees participated in three activities to give their specific input into the master plan process. Each visited a "wishing well" in which they placed two slips of paper with their wishes for recreation in the county.
The wishes from forum participants included building a sports/cultural activity center at the fairgrounds (where the county recently acquired more land), better maintenance of fields and facilities, more athletic fields, lacrosse expansion, tennis facilities, more group exercise spaces, more step and yoga offerings, more ropes course "free time," more recreation centers, and getting the funding to complete the Jennings Park master plan.
Next they visited the "Parks and Rec Bucks" game, where each person received 300 "dollars" to spend in buckets across various recreational areas, including water access (lakes), culture and arts, programs and recreation, picnic areas, community buildings, recreation centers, trails, playgrounds, athletic fields, aquatics (pools), sports courts (tennis, pickleball, squash, raquetball, volleyball, etc), and greenways.
In this game, the forum attendees chose funding for recreation centers, athletic fields, and parks as their top spending priorities.
At the "game board," participants each chose three beads, the color of which indicated the area in which they live. They then placed the beads in cups in the same categories listed above to indicate how they currently use the county's recreational opportunities.
The game results indicated that attendees currently use athletic fields, trails, recreation centers, and sports courts the most.
NEXT STEPS
The Stewart engineering team will be assessing county-owned facilities for their condition and ADA compliance beginning on December 30, according to Wolff. Surveys will go out in January, with data compilation and analysis being reported at another public meeting in February.
The construction of the master plan will take place in March, followed by presentation to commissioners in April.
New Iredell resident Wendy Rodina, who moved to Iredell County after the tremendous growth in Huntersville drove her family north, commented that they "love it here and want to be part of the community but also part of the solution."
"If Charlotte is growing like Atlanta and sucking everything up, how can we all work together to have a visionary process on the best way to manage our growth and make a plan?" asked Rodina.
Hepler noted that the 19 people from various agencies and politicians who participated in the leadership group really enjoyed the time to get together and talk and listen since they rarely have this kind of gathering to discuss these tough issues.
Hepler also suggested citizens stay connected with city and county planning departments who are developing or revising plans for many recreational amenities in their areas, including parks and amenities, trails, bike paths, and greenways. Citizens' input can influence these plans.
FOR MORE INFORMATION
To learn more or ask questions, contact Hepler at mhepler.co.iredell.nc.us or Wolff at lisaw@greenplayllc.com.