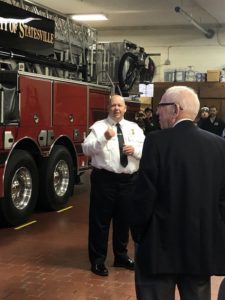 BY STACIE LETT CAIN
Two-year-old Sawyer Barnette was the youngest person in attendance at Monday afternoon's push-in ceremony for the Statesville Fire Department's new ladder truck.
"He absolutely loves fire trucks," his mom, Jennifer Barnette, explained. "He wanted a fire truck birthday this year so I thought he would enjoy coming here and seeing this in person."
Sawyer's excitement may well be matched by the employees at the SFD.
Fire Chief Spencer Lee praised the community and Statesville City Council for its investment in the department. The council approved a $1.25 million lease/purchase agreement for the ladder truck. It replaced a 20-year-old vehicle that was taken out of service earlier this year due to mechanical issues.
"This is the largest investment the city has made in our department and we are grateful," Lee said. "This addition will be an amazing asset to our city and our ability to protect our city."