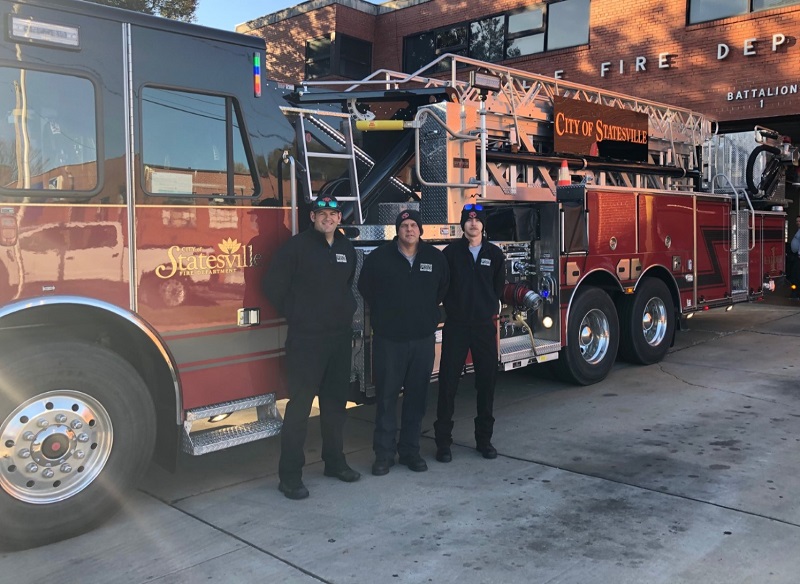 Statesville Fire Department Lt. Jacob Lail, Captain Aaron Kennedy and firefighter Tanner Goodin pose for a photo with Ladder 1.
Special to Iredell Free News
The Statesville Fire Department has taken delivery of the city's newest fire apparatus – a 2019 aerial truck that will be housed at Fire Station One in Downtown Statesville.
To celebrate the truck's arrival, the community is invited to a public push-in ceremony on Monday, November 18, at 4:30 p.m., at Station One, 316 South Meeting Street.
"A push-in ceremony is a firefighter tradition to welcome a new apparatus, harkening back to the days before motorized fire apparatus when a hand-drawn hose cart or horse drawn steam engine required a hands-on approach to push the apparatus back into the firehouse when returning from a call," according to Statesville Fire Chief Spencer Lee.
Monday's event will include refreshments and the opportunity to tour the new vehicle.
The new ladder truck, referred to as Ladder 1, is a 2019 Sutphen 100-foot Aerial Platform, with a 500-horsepower motor, a 2,000-gallon per minute pump and a 300-gallon water tank.
Ladder 1 replaces the department's 1995 Sutphen aerial truck. Earlier this year, the older vehicle began to fail safety standards and the City Council was asked to consider replacing the vehicle.
Council members approved a lease-purchase agreement for $1.25 million to obtain a replacement truck as quickly as possible.
The department took delivery of the new aerial truck on Thursday, November 7. SFD personnel spent the weekend training on the new apparatus with Sutphen representatives before taking final delivery of the vehicle.
The new Ladder 1 was officially placed in service and began responding to emergency incidents on Tuesday, November 12.
Chief Lee said that Ladder 1 will respond to all structure fires, high life hazard alarms and technical rescue incidents within the city limits, as well as mutual aid requests from surrounding fire departments.
In addition to providing the capability for rescues from heights unreachable by ground ladders and supplying elevated water streams at major fire incidents, the new aerial apparatus is designed with anchor devices which can be used for elevated rigging points when personnel are operating at high-angle rope rescue or below-grade rescue incidents.
The Ohio based Sutphen Corporation has been manufacturing fire apparatus since 1890.
The City of Statesville Fire Department is an Accredited Agency through the Commission on Fire Accreditation International (CFAI) and holds an Insurance Service Office (ISO) rating of Class 2.