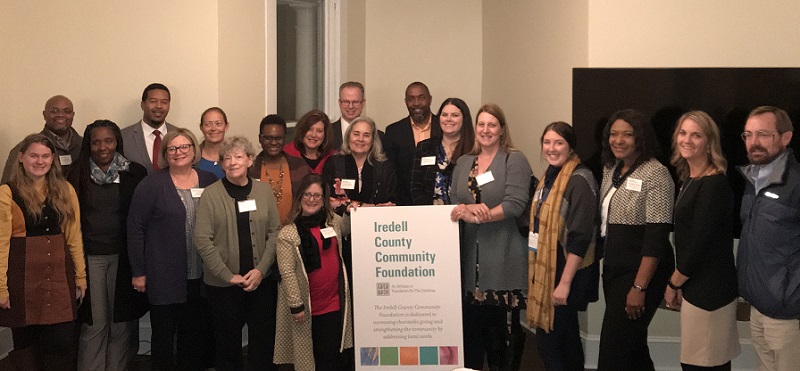 Representatives of the agencies that received funding from the Iredell County Community Foundation pose for a photo Wednesday night during a reception at Mitchell Community College.
BY BRANDY TEMPLETON
The Iredell County Community Foundation celebrated 30 years of supporting local nonprofits on Wednesday night by recognizing 14 organizations that are committed to improving the quality of life for families and children in Iredell.
Those organizations included Fifth Street Ministries, Hospice & Palliative Care of Iredell County, ICARE Inc., Iredell County Crosby Scholars, Iredell County Partnership for Young Children, Lowe's YMCA, Mooresville Soup Kitchen, North Carolina Symphony, Our Towns Habitat for Humanity, Piedmont Mediation Center, Shiloh A.M.E. Zion Church, Statesville Family YMCA, Young Individuals Pursuing Employment, and Youth Development Initiatives.
The foundation awarded those organizations $125,000 in grants during 2019.
David Green, foundation board chairman, commended the hard work of the foundation, saying that it had awarded a total of 250 grants to date to 100 different community organizations.
"We're in a position to provide grants for years to come," he said. "We have assets of more than $2.5 million to secure future grants. Local grant-making is the heart and soul of our work."
The board considers the greatest community needs, Green said, and directs funding in those areas.
"This year we focused on workforce development and children's literacy," he explained.
Three different recipients spoke about how the grants helped their organizations.
Rainbow Kidz Director Leigh Ann Darty said funding provided by the foundation helped provide grief services to 245 children and teens and helped underwrite the cost of Camp Rainbow.
"Homework is difficult to do if you're grieving," she said. "We're in Iredell-Statesville Schools every week helping kids through their grief."
Brooke Moose, representing Our Towns Habitat for Humanity, expressed the nonprofit's gratitude for the foundation's support.
"This grant helped us to start a program using Mitchell students to do electrical work while training for their jobs," she said. "It benefits the students, tradesmen, everyone."
Margaret Nelson, representing Shiloh A.M.E. Church, said foundation funding helped fund a six-week summer care program.
"We didn't want kids to start school with a deficit," she said. "All the kids either showed growth or maintained — there was no regression."
2019 Grant Recipients
Iredell County Community Foundation awarded $124,219 to 14 organizations in 2019:
Fifth Street Ministries was awarded $7,500 to purchase a donor database and non-profit management software;
Habitat For Humanity was awarded $11,845 for a workforce development partnership project with Mitchell Community College;
Hospice & Palliative Care of Iredell County was awarded $10,000 to serve children around Iredell County through their Rainbow Kidz grief program;
ICARE, Inc. was awarded $33,000 to provide workforce development opportunities for seventeen unemployed individuals ages eighteen and older who have barriers to employment;
Iredell County Crosby Scholars Community Partnership was awarded $8,374 for digital outreach to promote career & college awareness;
Iredell County Partnership for Young Children was awarded $5,000 for their Reach Out and Read program;
Mooresville Soup Kitchen was awarded $10,000 to provide hands-on training to individuals in meal planning;
North Carolina Symphony was awarded $3,500 to provide one full-orchestra concert for students in Iredell County;
Piedmont Mediation Center was awarded $2,500 to help offenders aged 15-17 participate in an interactive workshop;
Shiloh A.M.E. Zion Church was awarded $15,000 for their summer enrichment program designed to provide children with a camp experience;
Young Individuals Pursuing Employment in Iredell County (YIPE) was awarded $5,000 to train youth ages 14-21 to exhibit great customer service skills;
YMCA of Greater Charlotte was awarded $5,000 for their Y-Readers program at Lowe's YMCA;
YMCA of Northwest North Carolina (Statesville Family YMCA) was awarded $5,000 for their summer STEAM academy; and
Youth Development Initiatives was awarded $2,500 to provide academic enrichment and life-job skills based training to 10th-graders from Mooresville High School