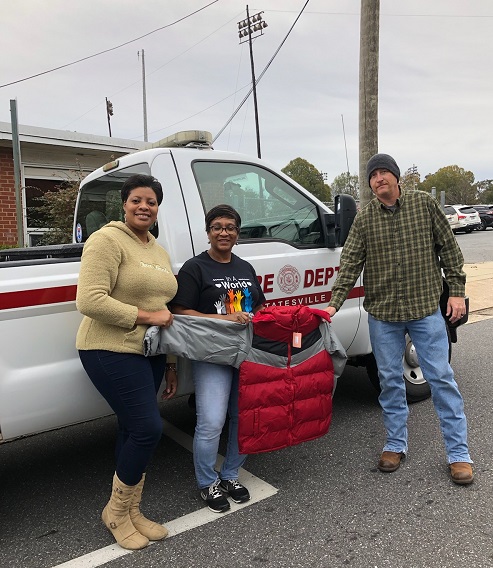 Special to Iredell Free News
More than 180 Iredell County children will have a brand new coat to wear this winter thanks to the Statesville Professional Fire Fighters Association and numerous community organizations who donated time and money to purchase the coats.
The coats were donated to Iredell-Statesville Schools, which helped determine those most in need of a new coat. The donation is part of a national foundation called Firefighters Coats for Kids.
The coats were purchased thanks to many fundraising efforts throughout the year. Wine Maestro in downtown Statesville hosted one fundraiser that local citizens participated in and with Wine Maestro donating a portion of their sales to the cause. Rextency Technologies out of Cary donates each year to the fundraiser. Piedmont Credit Union also held a fundraiser for the cause. The remaining donations to purchase the coast came from the Statesville Professional Fire Fighters Association and its members.
"As fire fighters, we try to make a difference in our community not just by protecting and serving in emergency situations, but also by supporting various community needs, including efforts to keep our children warm each winter," says Justin Elam, president of SPFFA. "This couldn't be done without the support of our members, as well as local businesses – Wine Maestro, Rextency Technologies and Piedmont Credit Union."
This is the fifth consecutive year that SPFFA has participated in Firefighters Coats for Kids, an outreach foundation that provides never-worn, American-made coats for children in need. Firefighter Coats for Kids is part of Operation Warm, a national non-profit organization that addresses the need of children living in poverty in the United States with new coats.
As part of the Professional Fire Fighters and Paramedics Association of North Carolina, Statesville is one of many cities across the state where much-needed coats will be donated.
"Working with Operation Warm gives us a chance to give back to the community that we serve and protect," Elam says. "A brand new Operation Warm coat gives a child new found freedom and confidence to play more, learn more and do more."