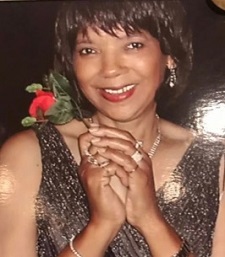 Mrs. Hattie Beatty Brown Mathis, 69, of Rock Hill, S.C., was born in Iredell County on February 25, 1950, and was the daughter of the late Robert Sylvester Beatty and Nealie Latten Beatty. Surrounded by family, she peacefully passed away on Wednesday, November 20, 2019, at the Gordon Hospice House in Statesville, N.C., following an extended illness. In addition to her parents, she was preceded in death by a son, Donnie Brown; brothers, Charles Willie Beatty, Robert "BB" Beatty, Milton Beatty and Jimmie Carl "Chico" Beatty; and sisters, Angeles "Ann" Beatty Cooper and Patsy Beatty Caldwell.
She was a 1969 graduate of Statesville High School and was added to the Highland Acres Church of Christ at an early age. She later united with Sugar Creek Church of Christ in Charlotte, and at the time of her death was a member of Crawford Road Church of Christ for over eleven years and served on the Kitchen Committee. While she lived in Statesville, she was employed at Intercraft and was a seamstress at FlexKnit. Upon her move to Rock Hill, she became a Cake Decorator at the Bi-Lo Grocery Store.
She was affectionately called "Zee" by her husband Matt and "Mam Maw" by her grandchildren, as well as "Big Mama," "Mama Zee," "Sister Mathis," "Nana," "Aunt Hattie," "Hattie Mae," "Hattie Jane" and several other endearing names. A loving and devoted wife, mother and grandmother, she will always be remembered for the love and joy she brought to those who were fortunate to share in her life.
She leaves to cherish the memory of her life, her husband, Harvis "Matt" Mathis of the home; two sons, Tony (Lesley) Brown and Tim (Joy) Brown, both of Lawrenceville, Ga.; her grandchildren, Rebecca (Alton) Calvert of Lemoore, California, Rajha Goode and Jordan Lee, both of Duluth, Georgia, Ivana "IV" Fischer of Atlanta, Georgia, Trent Brown of West Point, New York, Jalen Lee, Justin Brown, Josh Brown and Sophia Brown, all of Lawrenceville, Ga.; and a great grandchild, Roman Goode of Duluth, Ga.; her godchildren, who called her "Big Mama," Erica "Tootie" Daniels, April Strickland, Paul and Missy; her siblings, Moorise (Sarina) Beatty of Sandy, Utah, Helen Wilson of Houston, Texas, Nancy Beatty of Charlotte, Tracy Beatty Monroe of Miami, Fla., and Tony (Eve) Beatty of San Bernardino, California; and a host of nieces, nephews, brothers-in-law, sisters-in-law, cousins, the Crawford Road Church of Christ Family, the Highland Acres Church of Christ Family, the Mathis Family, the Beatty Family, the Latten Family, the Daniels Family, the Brown Family, the Houston Family and the Goodin Family, the Statesville and Rock Hill neighbors, other relatives and dear friends.
Celebration of Life Services will be conducted Wednesday, November 27, 2019, at 12 noon at Christian Outreach of the Piedmont. Pastor Glenn J. Usry is Pastor, Brother William Stockdale will officiate and Brother Derek Franklin will eulogize.
Hattie will remain at Rutledge and Bigham Funeral Home until taken to Christian Outreach of the Piedmont at 11 a.m. to lie in state. In lieu of flowers, make checks payable to Harvis Mathis for Hattie Mathis Scholarship Fund.
Visit the Book of Memories for Mrs. Mathis at www.rutledgeandbigham.com. Rutledge and Bigham Funeral Home is serving the Mathis Family.