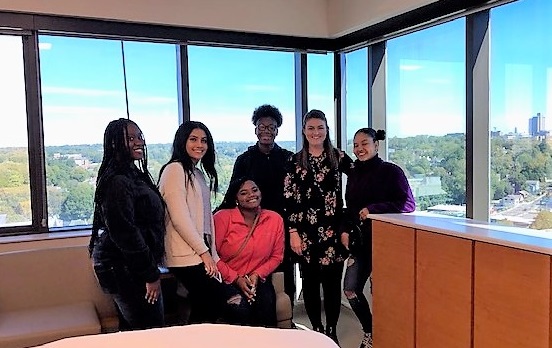 Pictured (from left) are Statesville High School students Sadira Hardy, Eunice Lopez, A'niya Rivers (sitting), Skylar Moss, teacher Lacie Howard and student Laura Sarmiento-Carvajal. The photo was taken while visiting the birthing center at Wake Forest Baptist Medical Center.
BY KARISSA MILLER
Statesville High School healthcare teacher Lacie Howard's 30 students have been selected to take part in the 2020 CodeMed educational program at the Wake Forest School of Medicine Center for Experimental and Applied Learning (CEAL).
Statesville was one of only five programs selected by the CodeMed review board to attend the program on March 26.
"I am excited to be at Statesville High School and for the opportunity for all of my students to see healthcare in real life," Howard said.
Howard also works as a registered nurse at Forsyth Medical Center. That's where she first heard about the program.
"I thought it was a long shot because it's always been prestigious and I wanted to attend myself," Howard said, explaining that they also look at the high school teachers in their job.
In mid-January, Howard will receive pre-learning materials in cardiology and women's health so that students can prepare for the simulation program.
While at Wake Forest, students will have hands-on learning experiences at CEAL, which encompasses the simulation, ultrasound, anatomy, and standardized patient programs and resources within Wake Forest Baptist Health.
Howard said it's an honor to be selected and that all of the health science students attending are interested in pursuing careers in healthcare.
All of the students are members of the Health Occupations Students of America Club (HOSA), a state and national organization that promotes careers in health care.
Statesville's HOSA Club students participate in service work and extracurricular activities after school, Howard said.