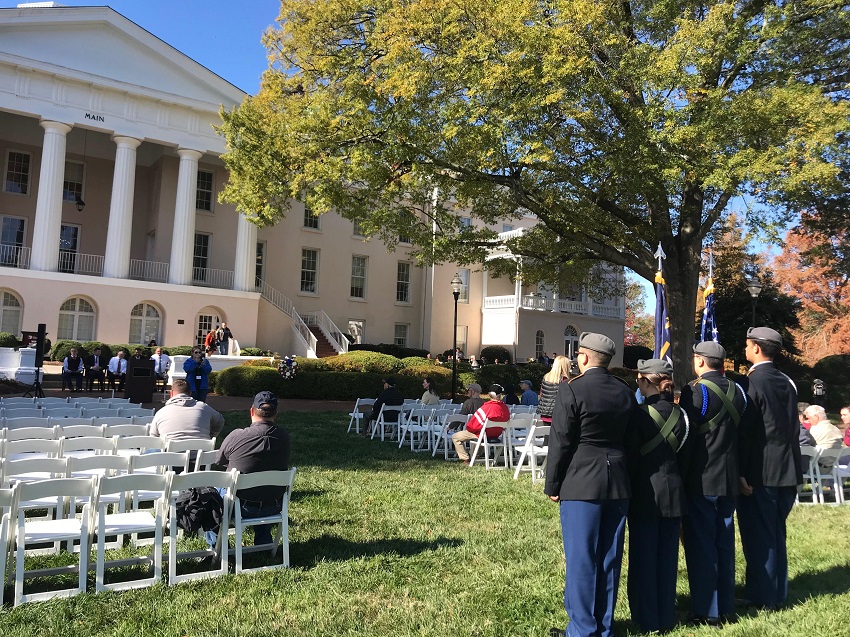 Statesville High School JROTC cadets present the Colors at the beginning of the Mitchell Community College Veterans Day Ceremony.
BY MIKE FUHRMAN
Mitchell Community College hosted a Veterans Day Ceremony on the Circle at its Statesville campus on Monday morning.
Mitchell president Tim Brewer recognized veterans from all four branches of the U.S. military, including the 16 veterans who are currently employed by the college, for their service.
The Colors were presented by the Statesville High School JROTC and Emily Schuttenberg performed a stirring rendition of the "Star Spangled Banner."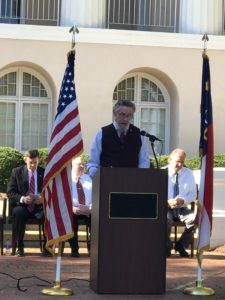 William "Bill" Bates, an Air Force veteran, pastor, retiree and Mitchell student and ambassador, delivered a special address, thanking all veterans for their service.
"The veteran gave up the safety and security of their homes. They left behind family and friends. Some surrendered their personal plans for an education and career," he told the crowd. "Some suffered the loss of sight. Some forfeited arms and legs for prosthetics. Some had their faces permanently scarred or grossly disfigured. And many others will be haunted by the images of war for the rest of their lives.
"And for those great costs they have paid, we thank and honor our veterans today."
He also acknowledged the sacrifices that their loved ones made to preserve our freedom.
Bates, who served in Guam during the Vietnam War, told the crowd that he remembered the poor treatment he received when he wore his uniform home while he was on leave because he was proud of it.
"Unfortunately, I found out not everyone felt that way. During my trip, I stopped at a restaurant for lunch and ended up facing a rather hostile crowd in the restaurant. … This was during the Viet Nam era and many people were calling the military murderers and baby killers.
"It was a painful experience," he added. "Thankfully, attitudes and feelings have changed."
Bates asked the veterans attendance to share their stories with others "so they can see the many faces of military service and appreciate the personal service of their neighbors."
Similarly, he asked non-veterans to reach out to a veteran in their life and ask them about their service — "or simply say, 'thank you.' "
"The more we talk about what we do, and how the military has affected our lives and our family's lives, the better able we are to hold that service up as an example of excellence," he added.
"To all the veterans here today — I sincerely thank you for your service and your sacrifice. I share the pride you feel in being able to say you have served in the greatest military in the world."
The ceremony concluded with veteran Clay Tallman, who works as an accounting technician at Mitchell, reading the poem "Flanders Field" before "Taps" was played by the Mitchell Community Band and the Colors were retired.