BY DEBBIE PAGE
debbiepage.iredellfreenews@gmail.com
During the public comment portion of the Troutman Town Council meeting, citizen Jim McNiff denounced an anonymous letter he and many others in the Troutman community received on the day before the recent municipal election.
McNiff first expressed his disappointment that so few residents voted in the recent election at such a "critical juncture" in the town's development. He then decried the "election zealot in this town who chose to share their views" without signing it.
The writer was critical of council leadership, saying "current council has fallen asleep at the wheel" as growth and high sewer and water rates negatively affect citizens. The writer encouraged voters to support candidates from the north side of town, claiming those residents lacks representation.
The writer was also critical of the hiring of an "inexperienced manager" in Justin Longino and of the severance package he received after his resignation last month, as well as the additional expense of hiring of Interim Town Manager Jim Freeman to manage the town. The writer blamed council for being "terrible stewards" of taxpayer money.
The writer singled out candidate Jan Huffman for blame, though she was not on council when Longino was hired or his contract was signed in 2016. The letter also shamed candidate Jeremy Shaw for not even being registered to vote before filing for the race.
The letter urged voters to vote for eventual winners George Harrison and Eddie Nau, both of whom have denied any responsibility for the letter.
Though the letter writer talked about the virtues of living in a small town, McNiff said, "The virtues I think are most important … and the sort of virtues that we would expect the residents of the town to embody are the fact that we don't try to build ourselves up by tearing somebody else down."
"If you've got an opinion you want to share, you put your name on the letter next time."
"There's a gross inconsistency of wrapping yourself in the cloak of small town America, like it's something sacrosanct, and yet we have people that are doing something like this. I find it reprehensible that this kind of thing can be delivered to my home without identifying themselves."
"You don't do things like this in a small town," concluded McNiff, causing the audience to applaud.
Council member Paul Henkel told McNiff that "he hit the nail on the head. It was very disturbing, very mean-spirited, very disappointing."
"If you want to support someone, do it in a positive manner. I hope I never see anything like that again from a citizen of this town.
Council members Paul Bryant and Judy Jablonski echoed Henkel's sentiments.
OTHER BUSINESS
TOWN AUDIT PRESENTED
Briggs Petway of Petway, Mills & Pearson told council members that the firm's recent audit of Troutman's financial processes revealed the town received an unmodified audit opinion, the best report that auditors can give.
Petway said the town has $8,611,356 in assets with a total net position of $5,992,583. The town's fund balance, or savings account, stood at a healthy $1,896,098 at the end of the fiscal year, well above the state required 8 percent of prior year expenditures.
The town's revenues were $3,998,143 last year, with expenses coming in at $3,507,728.
BAKER HONORED, OFFICERS INTRODUCED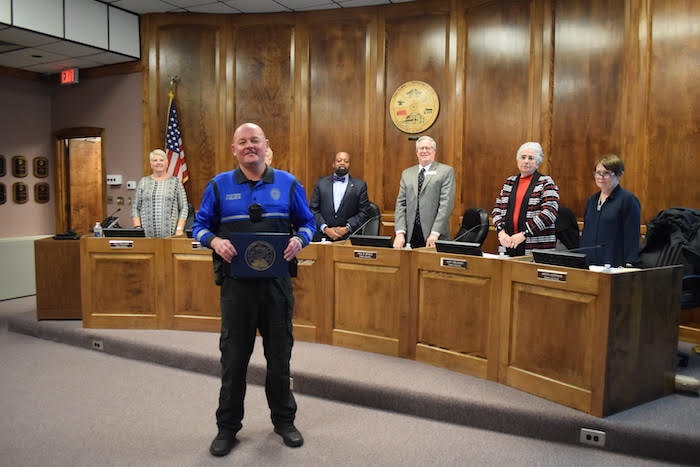 Mayor Teross Young honored School Resource Officer Kerry Baker for his leadership and contributions to the recent Domestic Violence Awareness Month event at the Career Academy and Technical School.
Baker encouraged students to collect an avalanche of donations and organize special services, food, and pampering for residents of My Sister's House on October 24. Principal Larry Rogers came to support Baker during the presentation.
Young noted Baker's "outstanding efforts" in putting on this event, now in its third year, as he presented a certificate of appreciation the officer.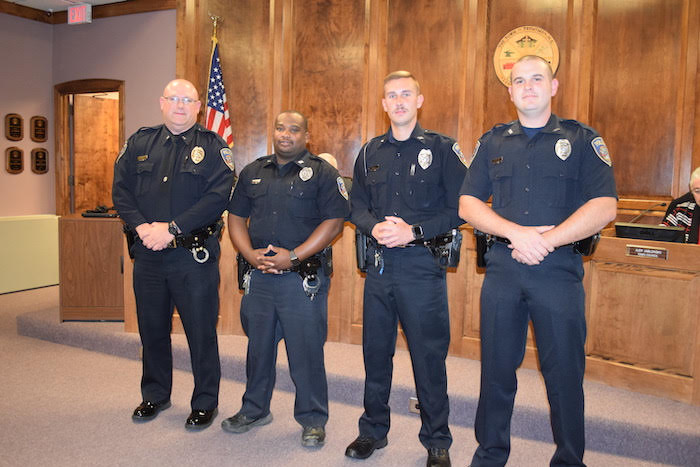 From left: Lieutenant Darrin Payne, Officer James Scott, Officer Madison Sharp, and Patrol Officer Ryan Sherrrill.
Lt. Darrin Payne introduced three new faces on Troutman police force members, who are filling open department positions, to the council and community. Officers James Scott and Madison Sharp will work full-time and Patrol Officer Ryan Sherrill will be part-time.
All three are lifetime residents of Iredell County and worked previously for the Iredell County Sheriff's Department "gaining great experience and knowledge" prior to coming to Troutman. "All three officers will be assets to our department," said Payne.
J. HOYT HAYES MEMORIAL TROUTMAN LIBRARY
Branch Manager Kelli Goodwin reminded residents that the library will be closed on November 28, 29, and 30 for the Thanksgiving holiday.
Goodwin invited residents to join the Troutman Friends of the Library group, who are hosting a road cleanup in its adopted area on November 18 from 4:30 to 5:30 p.m. Students can get service hour credit for this event.
Since November is National Alzheimer's Awareness Month, the library invited the Alzheimer's Association to present a workshop on Tuesday, November 19, from 5:30 to 6:30 p.m. that will explore how communication takes place when someone has Alzheimer's.
Attendees will learn to decode the verbal and behavioral messages delivered by someone with dementia and identify strategies to help caregivers connect and communicate at each stage of the disease. Those interested are asked to call the library (704-528-2682) to RSVP for this event.
Goodwin also asked community members to mark their calendars for the annual library Christmas party on Thursday, December 12, from 4 to 6 p.m. This year's party theme will be based on the movie "Elf."
COUNCIL ACTION
♦ In response to citizen Arch Morgan's complaint, council members will investigate the patching done during recent road repairs on Winterflake Drive that some residents believe is unattractive and see if any cost-effective remedies can be made.
♦ The council voted unanimously to annex 30 acres on Highway 21 next to the Iredell Charter School and zoned the property as highway business.
♦ A text amendment allowing truck maintenance and parking in heavy industrial zoning and a text amendment allowing religious institutions to have changeable type signage both passed 5-0.
♦ The council unanimously appointed Darrell Hall to the Planning and Zoning Board as an inside voting member and Ray Welch as an inside alternate position.
♦ The council voted 4-1 (Sally Williams dissenting) to remove the revised Parks and Recreation Rules of Procedure from the agenda after Bryant questioned whether a Town Council member should be a voting member of the Parks and Recreation Committee. Williams, a long time advocate for ESC Park, currently serves in that capacity.