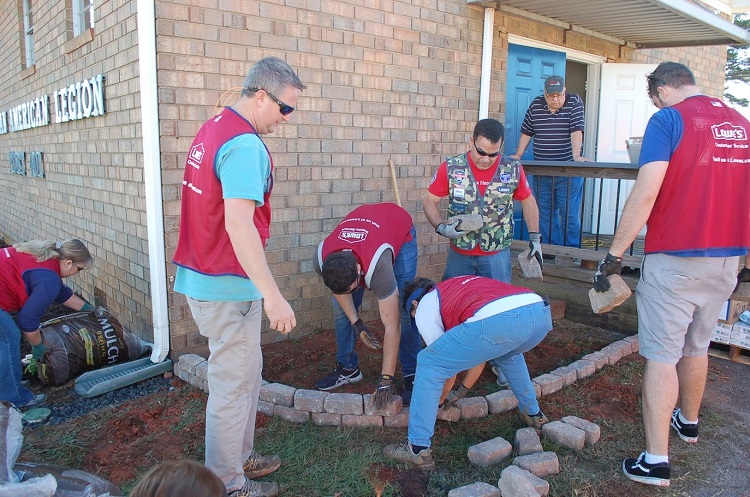 BY DEBBIE PAGE
debbiepage.iredellfreenews@gmail.com
Lowe's Home Improvement employees recently spent several days at the Troutman American Legion Post 401, volunteering their time to spruce up the nearly 60-year-old building with donated flooring, bathroom, landscaping, appliance, and lighting upgrades.
Bob Klatt, who first approached Lowe's for renovation assistance, said the company's response was incredible.
"It's just amazing how much they offer to veterans. This is a great community project and service," he said. "Lowe's does so much for the veterans with the discount they offer and how they help out veterans in the community."
"It brings tears to my eyes as a Vietnam veteran because when I came back, we were treated so badly," he added. "It was terrible. After living through a war, it was devastating and affected those veterans. That has now turned around and people are now saying, 'Thank you for your service.' "
Modernizing the building would have been impossible without Lowe's help, added Klatt. "We survive month to month," he said.
Lee McDaniel, the post historian and sergeant at arms, said Lowe's "has been awesome to include us in part of their Heroes program, which is a grant they do to provide upgrades and improvements to organizations such as ourselves."
Lowe's added new landscaping outside, remodeled both bathrooms, put up new lighting in the foyer, and added new flooring and appliances in the kitchen. The store also donated new picnic tables for its outdoor pavilion area.
"We are just beyond words for what they are doing for us. We are very excited for them to be here," said McDaniel.
Lowe's employee Lexie Feige said, employees are always looking for a project in the community to help veterans. When Klatt approached her at a community event and mentioned the lack of funds for remodeling the post for rentals, Feige brought the idea to store manager and 20-year Navy veteran Brian Levy, who green-lighted the project.
"Hopefully, they will be able to increase the use of this facility after the work," said Levy.
Goodman Construction Company and Dillon Contracting employees were on hand to provide plumbing and flooring expertise on the project. Lowe's garden center and receiving employees were also there to lend a hand. "It doesn't take long for the sign-up sheet to fill up," said Feige.
McDaniel, who served in the US Navy in the 1990s as an air traffic control specialist, said the post, which got its charter in 1952, moved into its present location in 1961. The post now has around 50 members, a number they hope will grow with the facility upgrades.
At one time, the post had over 300 members, but the majority were World War II veterans, "who we are losing very quickly."
The American Legion is the oldest veterans service organization in America, with its 2 million members celebrating the group's 100th anniversary this year. Anybody who has served honorably in any branch of the military since December 7, 1941, is eligible to become an American Legion member. The majority of the current members are Vietnam War veterans.
Though members get discounts at national businesses and other perks, McDanial said that for him, the most important aspect of belonging to the post is having "that sense of camaraderie that I had when I was in the military."
"We're trying to get younger members in here," added McDaniel. "We are the future of this post. If we want to keep this post going, we need the younger members."
Klatt also noted that at the national level, the American Legion organization uses its clout to ensure veterans continue to get their benefits.
The American Legion is also important to the veterans on the local level, according to Klatt. "It's a place where we understand where you are coming from, whether it is PTSD, wounds, or whatever. This is an opportunity for veterans to get together, not necessarily to talk war stories, but just to have somebody beside them that understands where they are coming from and what they went through in life, which was traumatic."
The post works with other local veteran service organizations through the Iredell County Veterans Council to help provide support and services to local veterans.
The post also periodically hosts share nights on Mondays and Tuesdays from 4 to 8 p.m. at Randy's BBQ, which donates 10 percent of the sales to the post. McDaniel invites the community to come and meet the post members.
The post hopes to resume the scholarship it once offered at South Iredell High School once its finances allow, and the organization volunteers with the school's MJROTC cadets. The post tries to stay active in the community, participating in the Front Porch Fest, the Independence Day Parade, National Night Out, and Trails and Treats events.
LEARN MORE
To learn more about membership or rentals Post 401, check out its frequently updated Facebook page at https://www.facebook.com/post401/ or call McDaniel at (980) 434-8763.