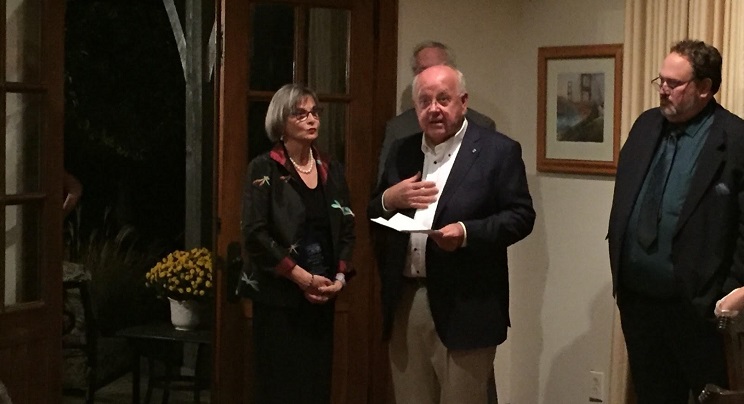 Frank Johnson (center) speaks to supporters of the United Way of Iredell County on Thursday evening as his wife Linda and United Way executive director Brett Eckerman look on.
Special to Iredell Free News
United Way of Iredell County announced the successful completion of its Million Dollar Challenge for the Endowment on Thursday, November 7, at a celebration for challenge donors sponsored by Iredell Health System and Piedmont Healthcare. This milestone was reached one year ahead of the deadline.
Under the inspiring leadership of Barry and Anna Gordon, United Way has reached a major milestone successfully completing the largest fundraising effort over its 66-year history of service in Iredell County.
"United Way is the leader in unifying organizations to achieve lasting human service results for the people of our community," said Barry Gordon, Million Dollar Challenge co-chair. "Anna and I have been honored to lead this campaign mobilizing volunteers and donors toward improved education, income and health in our community."
United Way's annual campaign (currently running) provides support for the on-going programs at 21 local non-profit organizations. Supporting everything from a child's first book, through a senior's last breath and impacting over 100,000 individuals across our community annually.
The Endowment will supplement the annual campaign by providing support for one-time transformative grants that help initiate new programs and services that address growing or unmet community needs.
Grants from this endowment to date have helped fund the start-up costs of the Veterans Transitional Home, started a new endowed scholarship fund at Mitchell Community College in memory of Dr. Douglas Eason and brought new training and fundraising resources to non-profits across our community.
"The growth of this fund gives us a powerful new tool to solve problems and improve the lives of people across our community," says Will Fanjoy, Endowment for the Future chairman. "How many times have I heard an agency leader or board member say they have a great idea to improve our community, but the resources are not available to bring their idea to life? This fund will help lift up a few of the best of these ideas and put them into action."
At this celebration event, United Way of Iredell County also announced the winners of the 2019-2020 Benefactor Award. The Benefactor Award is given each year to one individual or couple whose commitment to community service goes way above and beyond expectations.
This year's winner of the Benefactor Award were Frank and Linda Johnson. The Johnsons made the initial gift that began the United Way of Iredell County Endowment for the future in 2012, and have been passionate advocates for the growth and development of this tool ever since.
It was also unveiled at the celebration that they were the donors of the Million Dollar Challenge grant that inspired this endowment campaign. Challenging United Way to raise $1.9 million dollars in order to receive their additional $1 million gift. The campaign to date has raised just over $2.4 million in pledges and planned gifts.
In addition to their support for this Fund, the Johnsons have a strong history of supporting non-profits across our community including the March of Dimes, Rotary, Mitchell Community College and many other worthwhile causes.
"Linda and I thought about how we can put this matching dynamic into play with our community and came up with the foundation for the future concept," Frank Johnson said. "Knowing we could only give so much, we wanted to optimize the efforts it would take to build a local foundation that would be totally transparent in its operations, goals, management and distribution of funds. We wanted one that would have the respect of the community at large, one that any sized gift would make a difference.
"Most of all we wanted a foundation that would engage this community with which we belong. Other communities much larger and more prosperous are looking at this foundation and asking how to do it themselves. It should make you feel good to know that Iredell County is an inspiration for something that is so important and successful. Your decision to give will continue changing the world for the better into perpetuity."
United Way President Marian Clark called achieving the grant challenge "a major milestone."
"This is not the end of our efforts to build a better community," she said. "We will continue to invest in the tools needed to give every person a chance to lead a successful life. We need the passionate involvement of our community. Your thoughts. Your time. Your support. Together this is just the beginning of what we can achieve."
Gifts for the Million Dollar Challenge are still being accepted. Please contact Robb Collier at 704-872-3000 if you are interested in joining this effort.
About the United Way of Iredell County
To donate, volunteer or get more information, contact the United Way of Iredell County at 305 North Center Street, P.O. Box 1312, Statesville NC 28687; (704) 872-3000 or beckerman@uwiredell.org. For more information about the United Way, its agency partners or the Endowment, please visit our website at www.uwiredell.org