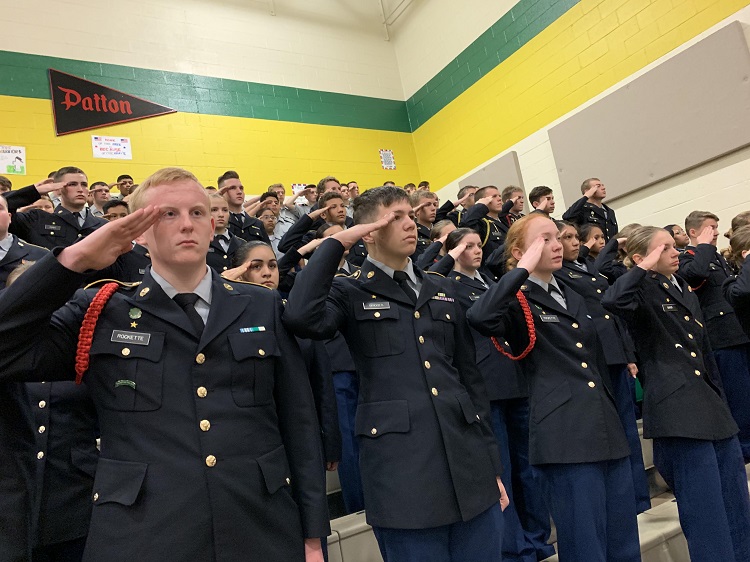 West Iredell High School JROTC cadets honored local military veterans on Friday with a special event and luncheon.
PHOTOS BY BRANDY TEMPLETON
BY KARISSA MILLER
West Iredell High School JROTC cadets hosted a Veterans' Day celebration on Friday to honor dozens of local men and women who served in all military branches.
Around a hundred veterans and citizens attended the communitywide event.
"I would like to extend an especially warm welcome to our veterans and their families who are sitting before us," said Bryson Benfield, battalion commander of the JROTC. "Today's ceremony is for you, the men and the women that are serving or have served our country so we can have the freedoms we have today."
The ceremony included a performance of the National Anthem by the school's marching band. After the presentation of the flag, the West Iredell High marching band performed the anthems of the U.S. Army, Marine Corps, Navy, Air Force and Coast Guard.
JROTC Instructor Eric Vanvliet then introduced the speaker of the ceremony, Capt. Andrew Sherrill.
Sherill, a 1995 West Iredell graduate, began his military career at the U.S. Military Academy at West Point. Shortly after graduating as a second lieutenant from West Point, he became a soldier and leader during Operation Iraqi Freedom.
"Is there a young man Zander Smith in here or is he in class?" Sherrill asked, telling the crowd that he was going off-script from his speech.
Smith, a West Iredell football player, returned an interception for a touchdown during the second half of Thursday night's football game, Sherrill explained.
"To see Zander come to the sidelines and see him embraced by his teammates was something special," Sherill said.
"Really, as a vet, we all share what I call brotherhood among each other. Even though we didn't serve together we're going to have the opportunity to talk to each other and share stories later on," he added.
Sherill then shared his personal story of military service. He spoke of serving in the 3rd Brigade, 3rd Infantry Division in Operation Iraqi Freedom efforts.
"Not all veterans have been to war, but many, like me, have served in a war. I spent seven months in combat in Operation Iraqi Freedom," he said.
Sherill said that two of his friends didn't return home and that he takes the opportunity, whenever possible, to remember them.
In closing, he encouraged veterans to share their stories with students — hopefully inspiring the next generation of leaders.
JROTC cadets each read a poem that was either written to commemorate a solider or family members affected by America's armed conflicts throughout history. During this time, veterans of all time periods, serving from present to the 1940s, stood when their decade was announced.
Cadet Jayden Anderson read a poem called "Fame," which he wrote himself.
"When I was young, I thought of fame, but now I don't think the same;
"I think of heroes far and wide, who fought for our freedom and our rights," he said.
The ceremony also featured patriotic musical interludes by the West Iredell band and school's choir.
Toward the end of the ceremony, emotions of the veterans and their families noticeably swelled as the Honor Guard folded the American flag into a taut triangular fold.
The ceremony concluded with a barbecue luncheon for the veterans and their families.