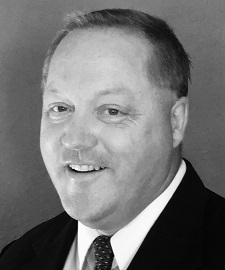 Special to Iredell Free News
Alexander County trial attorney Rob Young has filed his notice of candidacy for the District Court Judge seat being vacated by the Judge Deborah Brown in the 2020 election.
Young, a Republican, will be making his second bid for elected office, having previously run for District Court Judge in 2018.
Candidate filing began Monday and runs through December 20.
If he is elected, Young said he would work to address backlogged domestic cases as well as to address the significant problem of substance abuse in both Alexander and Iredell counties.
"Drug abuse is the number one problem plaguing the District Courts. Nearly every case I handle in Juvenile Court involves drug abuse, and it also creates problems in my other cases. I believe taking measures like developing a Drug Court, where court-ordered treatment is made available to those involved in drug-related crimes and civil cases, would go a long way toward addressing addiction problems in the two counties. We need to enforce our drug laws and assure those on probation are held accountable for staying sober.
"If elected, I will do whatever is in my power to bring the judicial branch to the table to help put an end to this plague which has cost many lives, shattered many families, and has tragically put an end to the vitality of many communities in North Carolina," he added.
Young is a 1995 graduate of Drake University School of Law, where he earned his Juris Doctor Degree. He completed his Bachelor's Degree at the University of North Carolina at Asheville, where he majored in Economics and Philosophy. He earned a Master's Degree in Religious Studies from the University of North Carolina at Charlotte in 2014.
Young has practiced law for 24 years, both in private practice as well as in the governmental sector. After passing the North Carolina Bar in 1995, he opened a state and federal solo trial practice in Asheville, where he handled both civil and criminal matters in North Carolina District and Superior Court as well as the U.S. Bankruptcy Court and the United States District for the Western District of North Carolina. In 1999, he became the sole staff attorney for the Iredell County Department of Social Services, where he legally protected juveniles from abuse and neglect, collected past due child support, and protected adults from exploitation. In 2004, he continued this same work when he became employed as the sole staff attorney for the Alexander County Department of Social Services.
Young also has an extensive experience before the North Carolina Appellate Courts, having numerous reported cases as well as having argued in front of both the North Carolina Court of Appeals as well as the North Carolina Supreme Court.
In addition to his work as an attorney, Young has published two legal treatises for Thomson Reuters. He is the author of "North Carolina Juvenile Code: Practice and Procedure," a leading treatise in Juvenile Law in North Carolina which has been in continuous publication since 2003. He also is the author of "Legal Rights of Children," Third Edition, a national legal treatise dedicated to the law surrounding juveniles.
Young has been married to his wife, Kimberly Young, for 27 years. He has two children and resides in Statesville. He is also extensively involved in his community. Young is an active member of Broad Street United Methodist Church, where he has served on several committees over the years. He is a Senior Advisor and Vice Chairman of the Board of Directors for Iredell Crosby Scholars, an organization dedicated to creating college opportunities for Iredell County public school students. He is also a lifelong member of the Boy Scouts of America, where he currently serves as Scoutmaster for Troop 348 in Statesville. Additionally, he is a member of the V Point Ruritan Club in Cool Spring, North Carolina, and a member of the Drug and Alcohol Coalition of Iredell County.