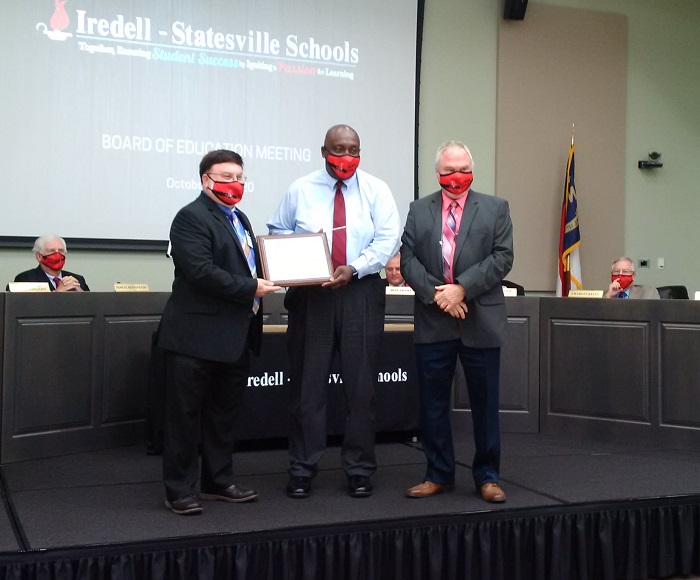 BY KARISSA MILLER
Despite his reluctance to be the center of attention, Iredell-Statesville Schools Assistant Superintendent of Athletics and Operations Richard Armstrong was honored to be in the spotlight for a few minutes last week.
While being recognized by Superintendent Jeff James as the recipient of the 2020 Charlie Adams Distinguished Service Award, Armstrong received a standing ovation from the board and a huge round of applause from those in attendance at the October school board meeting.
The award was presented to Armstrong by the N.C. High School Athletic Association in memory of longtime NCHSAA Executive Director Charlie Adams in recognition of a long career in education and outstanding contributions in the area of middle and high school sports.
Armstrong was recognized for going above and beyond expectations, his support of NCHSAA activities, and his service to athletics across public schools in North Carolina.
The recognition was received in a low-key manner by Armstrong. Typically, he is usually the one recognizing athletes and coaches during board meetings.
"I'm humbled and honored. I'm still taking it in," Armstrong said.
But Armstrong's moment in the spotlight was well deserved as he has been instrumental in five different N.C. school systems over a span of 40 years.
Early days in education
Even as a high school athlete, it was obvious that Armstrong possessed the special attributes — including talent, leadership and instincts — to become a successful football player at the college level.
"I went to Lenoir Rhyne on a full athletic scholarship. I was an offensive line," he said. "I was the oldest of three children and the only one that went to college."
Armstrong grew up in Gastonia. He was raised by his parents Richard Armstrong Sr. and Floree Floyd Armstrong.
"Growing up, a lot of people didn't see you going to college in my neighborhood," Armstrong said. "My parents always told me that I could do whatever I set my mind to."
Armstrong said his entry into the field of education as unorthodox.
"My father and also my mother had a huge respect for education. It's the greatest thing you could do — I heard that my whole life," he said. "And then when I was at Lenoir Rhyne, I decided to major in History and Political Science and wanted to go to law school. However, I decided not to go into law school, which is the greatest decision I've ever made."
His parents' support — coupled with those who have doubted him over the years — inspired Armstrong to work hard and devote himself to serving students all these years.
"When people have told me what I'm not going to be able to do, it has motivated me to prove them wrong. I have spent my entire life proving people who have underestimated me wrong," he explained.
Armstrong remembers that even his grandfather was among the naysayers — or so he thought — as he fondly recalled how his grandfather used reverse psychology to motivate him to graduate college.
Though Armstrong didn't necessarily know how far he would go as an educator, coach and athletic director, he went on to become a top school administrator.
He began his teaching and coaching career during the 1981-82 school year in Alexander County, where he worked for 13 years.
Armstrong then spent six years in Hickory Public Schools. During that time, he worked as a teacher, assistant principal and principal.
He returned to Taylorsville, where he served as the principal of Alexander Central High School during the 2000-2001 school year.
"I was the first minority principal in Alexander County since integration," Armstrong said.
After that year, Armstrong went on to serve as principal of Newton-Conover and Western Guilford high schools before coming to Iredell County.
Doing his best in memory of his dad
In 1992, Armstrong's father died.
"His death made me work even harder to reach the goals he had for me," he said.
Armstrong's dad was illiterate, he explained, which many people did not know. He remembers his dad telling him that he wanted him to become a teacher so that other young people won't grow up who can't read.
"It sounds simple, but he meant it," Armstrong said.
As a teacher, Armstrong raised expectations for every student that he came in contact with just like his own dad did when he was a youngster.
"I would tell my students, 'Life on a good day is tough so if you are not prepared for it you are going to be in trouble,' " he said. "I think every child responds and lives up or down our expectations as adults."
Working as a football, wrestling, basketball, softball and a reluctant tennis coach, he said, was a wonderful experience and has kept him connected to the sports world.
Armstrong said that this made the job all the more enjoyable as he loves athletics and being able to watch the games or matches. While student-athletes have come and gone during his career, he has always emphasized the importance of sportsmanship, behavior, good attendance and being a good role model for others.
In his current role with Iredell-Statesville Schools, he oversees 14 athletic directors and also supervises several different school departments, including student services, transportation, school safety and more.
The Charlie Adams Award affirmed his contributions across the state for the past four decades.
"I feel appreciated. It is proof that the work done over the years with athletes, coaches and students hasn't gone unnoticed. It means a lot," Armstrong said.
Photos