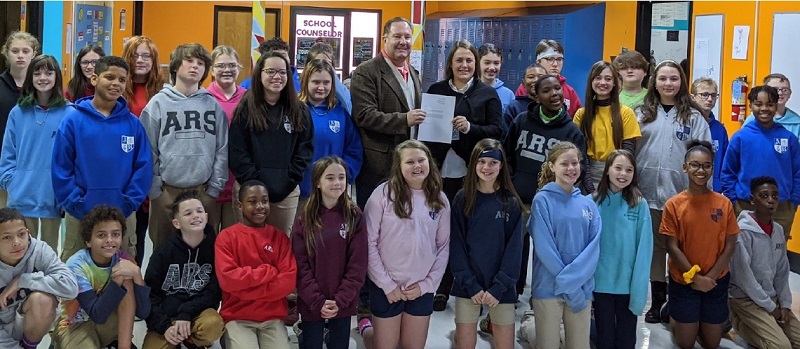 Pictured are N.C. Rep. Jeff McNeely, American Renaissance School science teacher Cathy Berkley, and ARS sixth-graders. (Photo courtesy American Renaissance School)
Special to Iredell Free News
American Renaissance School science teacher Cathy Berkley has been awarded an N.C. Schools Go Outside Grant.
The $1,500 grant, provided by the N.C. Outdoor Heritage Advisory Council, is designed to help teachers get their students outdoors. Berkley will use the award to provide discounts and scholarships for students to attend the Mountain Trail Outdoor School, a three-day environmental and experiential education program in Hendersonville.
As a public charter school, ARS relies greatly on the support of our community. Charter schools are funded at a lower rate than regular public schools, so community support is essential for us to continue our vision to be the best choice for K-8 public education in North Carolina.
With a 21-year history in Downtown Statesville, ARS is honored to have been selected for this grant from the N.C. Outdoor Heritage Advisory Council, school officials said in a news release.