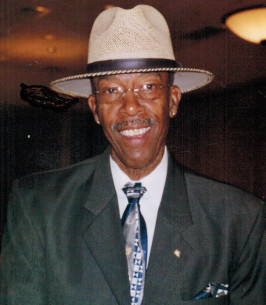 Mr. Walter Roylee Jackson, affectionately called "Peel," was born in Clover, S.C., on January 15, 1936, and was the son of the late Walter Roylee Jackson Sr. and Pearl Adams Jackson. He departed this life on Wednesday, January 29, 2020, at his home surrounded by his family.
He was a graduate of Unity High School and was a member of Shiloh AME Zion Church, where he served faithfully for many years in various capacities. He was a member of the Mt. Carmel Masonic Lodge #37.
In addition to his parents, he was preceded in death by a son, Zarak Dale Jackson, and his siblings, David Jackson, Stellie Jackson, Odell Jackson, his twin Walker Jackson, Henderson Jackson, Lizzie Lee Jackson and Elmer Jackson. He was united in marriage for over 64 years to his wife, Frances Jackson.
He leaves to cherish and celebrate the memory of his life his wife, Frances of the home; his children, Walter (Donna) Jackson of California, and Cheryl Ann Jackson, Kimberlee (Kelvin) Nesbit, Tammy Cauthen, and Shannon White, all of Statesville; his goddaughter, Sharon (Jeffrey) Brown of Statesville; his grandchildren, Michelle Renee Jackson and Angela Crudupt, both of California, Sean Jackson, Brittany Jackson, Billy White III, Damion Jackson, Michael Jackson and Aaliyah Jackson, all of Statesville; his great grandchildren, Alexis Blackwell, Kesean Jackson, and Jaceyon Jackson, all of Statesville; his great-great grandchildren, Ayden Blackwell, Sen Blackwell and Breylen Blackwell, all of Statesville; special friends, Charles (Brenda) Tenor, Jamie (Gloria) Jackson, Dennis S. Parker, Tiffany Nichols, Albert (Shelia) Gaines, Jeff Cauthen and James Nedine; and a host of nieces, nephews, cousins, The Shiloh AME Zion Church Family, other relatives, neighbors, and friends.
Celebration of Life Services will be conducted Saturday, February 1, 2020, at 1 p.m. at Shiloh AME Zion Church. Reverend J. Ruth Davis, pastor, will officiate with burial to follow in the Belmont Cemetery. Mr. Jackson will remain at Rutledge and Bigham Funeral Home until taken to the church to lie in state at 12 p.m. Members of the family will receive friends at the church from 12:30 p.m. until 1 p.m., but will assemble at the residence at other times.
Visit the Book of Memories for Mr. Jackson at www.rutledgeandbigham.com. Rutledge and Bigham Funeral Home is serving the family of Mr. Walter R. Jackson.