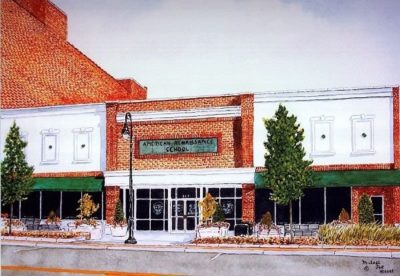 BY MIKE FUHRMAN
The faculty and staff at American Renaissance School are working to make the first nine weeks of the upcoming school year as close to an "in-school" experience as possible.
After an intensive review of COVID-19 data, parent and teacher surveys, and analyzing the school's ability to provide remote learning for all students, the ARS Board of Directors decided to delay a return to in-person learning until October 19, at the earliest.
Executive Director Jim Duffey said the risks to faculty and staff, students and family members associated with in-person learning and the challenges of being able to socially distance outweighed the benefits of having students return to campus two days per week combined with remote instruction the other three days.
"I'm 100 percent confident we made the right decision," Duffey said.
In addition to creating a plan to provide 100 percent remote instruction (Plan C), administrators also made preparations to have students return to campus full time (Plan A) and part time (Plan B), as directed by Gov. Roy Cooper.
In order to ensure the ARS board had all of the information necessary to make an informed decision, the school formed a 28-member return-to-school committee in May.
The group, which was made up of teachers, administrators and parents, divided into subcommittees responsible for developing plans focusing on instruction, the unique needs of EC & AIG students, health and safety, operations and facilities, and IT and communications. Those subcommittees met once or twice a week and consulted with subject matter experts.
"We focused mostly on Plan B because it was the most complicated of the plans to do," Duffey explained. "We looked at that really heavily because it was the most work."
About a quarter of teachers and parents expressed concerns about becoming infected with COVID-19 and/or transmitting it to another family member due to underlying health issues.
While 75 percent of ARS parents who participated in a survey said they would send their children to school for in-person instruction, many also ahared their concerns about enforcement of mandatory masking and felt teachers would spend too much time managing masks.
Some 56 percent of teachers and staff said they preferred beginning the year providing remote learning. In addition to health concerns, teachers said it would be challenging to simultaneously provide instruction to students who are physically present and students who are participating through a virtual learning application.
"I think everybody has concerns. I think there is a difference between being willing to go back and feeling safe about going back," Duffey said.
The subcommittees also looked at issues associated with conducting daily health checks for 600 students, all of whom are walkers or car riders. The potential for traffic jams in downtown while parents waited on screening results was a concern, Duffey said.
Other issues like the small size of some elementary classrooms and having a small pool of substitute teachers were also considered.
Finally, committee members looked at the data from the Iredell County Health Department that showed an increase in the percentage of positive results for those tested for COVID-19 in the county in June and July, after stay-at-home rules were relaxed, and in increase in positive cases among Iredell residents under age 17.
In the final analysis, Duffey and the board concluded that bringing students back to campus two days per week would jeopardize the health of ARS employees, students and the families of both groups – and have mixed results from an educational standpoint.
"We put kids' needs first, but we cannot forget our staff and families," Duffey said. "One staff member responding to a survey stated, 'I want to go back but I don't want to have to mourn the loss of a student, staff member or family member.' "
What Plan C will look like at ARS
The new school year begins August 12.
ARS teachers and staff have taken seriously the feedback they received from parents, who felt like they had to become homeschool teachers in the spring after the governor ordered all public schools shuttered to prevent the spread of COVID-19. Some parents reported being "overwhelmed" by the experience.
When ARS begins the new school year, students will be engaged in "synchronous" learning from 8 a.m. until 2:30 p.m. on Monday, Tuesday, Thursday and Friday. Students will work independently on Wednesday, and students who need extra support will receive it remotely or in person, with appropriate safety measures.
ARS will also provide training and resources for parents to better navigate the world of remote learning, take attendance, and engage with parents if students are not online and ready to learn each morning. Emotional, social and support services will be provided to students who need them, Duffey said.
"We are trying to recreate school as normal as possible."
Meanwhile, the school's return-to-school committee will repeat the work it did this spring and summer to help the ARS board determine if Plan A or Plan B is appropriate for the second nine weeks.
Waiting List
Duffey concedes that Plan C will not be the best option for all ARS families. Some will choose other options that better serve their needs.
As a result, the school may have openings for new students. Parents who are interested can fill out an application on the school's website, www.arsnc.org, and be placed on a waiting list.
New School
Work is slated to begin soon on the new $12 million, 68,000-square-foot building on a four-acre site off Tradd Street. Construction will take 14-18 months. When the new school building opens, ARS will increase its enrollment from 600 to 900 students.