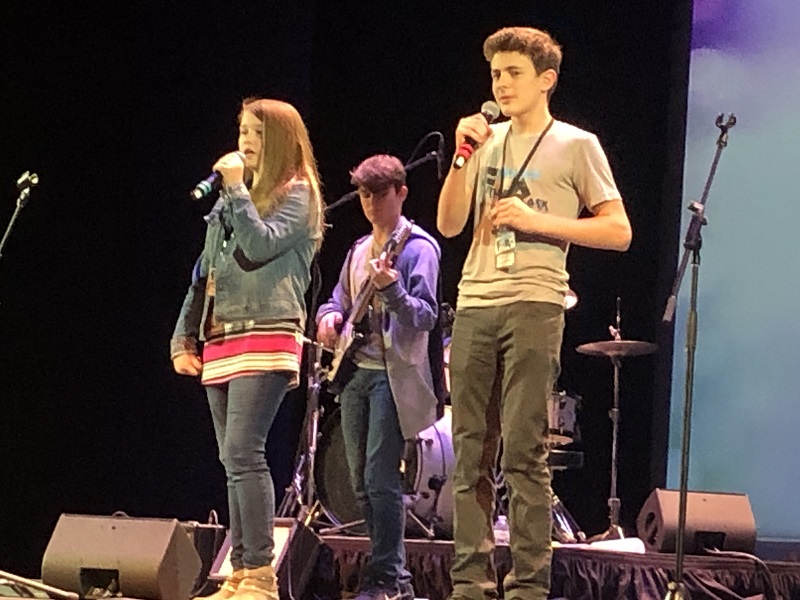 BY STACIE LETT CAIN
When your child loves the music program they are in but you move someplace it isn't offered, what do you do?
You start your own. That's exactly what Denise Mathern and her husband Lance, owners of Elevate Rock School in Mooresville, did.
"I just thought that as much as our son loved this program, that others might love it just as much," Denise explained. "So we asked if they would allow us to purchase a franchise and start the program here."
Nearly three years later, on Saturday, they had more than 40 bands performing for friends and family at their semi-annual showcase.
"The kids are enrolled and then grouped together in bands," Lance said. "It's one week practice, one week music education. And the best thing about the performing side of it is that they get to choose their own songs — totally their choice. We don't tell them what to play."
On Saturday those choices ranged from The Beatles to original compositions that the participants wrote.
One band, Late Nite Extremities, performed two original compositions. But lead singer Maya Schacher, 16, decided that even though she is one of Elevate's shining stars, being a rock star isn't her end goal.
"I really want to go to UNCG in music education and be a music teacher," she admitted. "I love kids and I love music. But, hey, if the rock star thing works out that would be ok with me too."
Schacher started with Elevate when she was 13, but participants are as young as 3 and as old as 18. They even give private lessons to some adults.
The love of music has no age and everyone is welcome to join in on the fun.
"I like being on stage and dressing up like a rock star," said Carson Reiner, aged 9. "That's fun."
LEARN MORE
For more information on Elevate Rock School visit www.Elevaterockschool.com or call (704)662-6001.