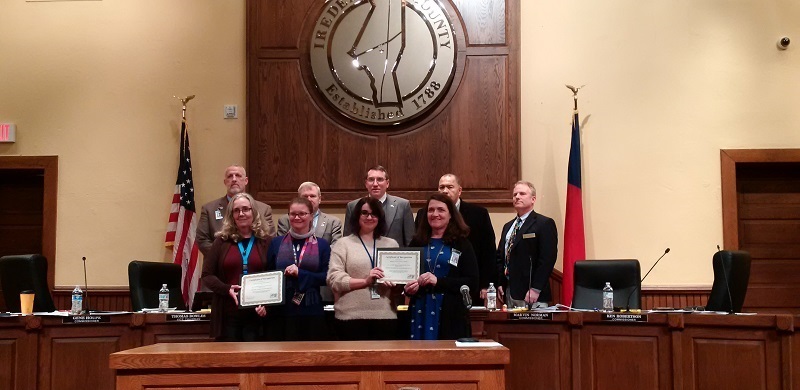 BY KARISSA MILLER
The Iredell County Public Library staff was recently recognized for their hard work throughout the 2018-2019 year.
Under the leadership of Executive Director Julianne Moore, the library was awarded the Services Innovation Award and the Public Relations Promotional Project Award by the N.C. Public Library Directors Association in December 2019.
The Iredell County Board of Commissioners recently recognized Moore and the staff during the January board meeting.
"It's always a treat to be able to recognize the outstanding performance of Iredell County employees for their service," Chairman James Mallory said.
"Today, we have an opportunity to present what other organizations have found fit to recognize — in terms of how the Iredell County library stands out from the pack," he added.
The Services Innovation Award was presented for the development of the StudentAccess Courier Service, which allows public school students throughout the county to use their lunch numbers to request library materials.
"Students are able to request public library materials to their accounts and we deliver them for them and pick them up at their media center at their schools," Moore explained.
The program has been well received, she said. StudentAccess Courier Service delivered 816 items to schools during fiscal year 2019 and 586 items in the first three months of fiscal year 2020.
The program was developed and managed by Youth Services Librarian Carole Dennis and Library Program Specialist Brandi Grubb.
Mallory said the service is meets a need while thinking outside of the box. He thanked the staff for their excellent work.
Th Public Relations Promotional Project Award was presented for the "Marketing From the Ground Up" program developed by Community Engagement Librarian Jenny Levins.
Mallory shared some social media statistics as a result of the library's public relations efforts, there were:
♦ 1.05 million impressions, 1,150 posts and 867 new followers.
♦ Additionally, there were 70,438 website visits and 7,287 email clicks with average visit times around six minutes.
♦ Total circulation increase was 3.36 percent.
Check out what the library has to offer
While the library is often viewed as a haven for book lovers, researchers and students, it offers so much more these days. The Iredell County Public Library is a place of learning, a forum for art and travel, history and a community center.
"We tend to think there's no reason to go to the library anymore. It's all on the Internet. The fact is they have a lot of computers and Internet access for people who don't have it," Mallory said.
The Statesville branch is located at 201 North Tradd Street. The hours are 9 a.m. to 9 p.m. Monday through Thursday and 9 a.m. to 6 p.m. on Friday and Saturday.