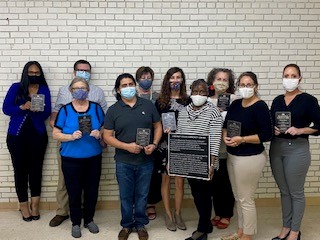 Special to Iredell Free News
The Greater Statesville Chamber of Commerce and the Leadership Advisory Board hosted the 2019-2020 Leadership Statesville Class graduation ceremony on Thursday, October 22, at the Chestnut Grove Community Center.
Leadership Statesville is a nine-month community leadership program sponsored by the Greater Statesville Chamber of Commerce. The purpose is to develop a pool of qualified, highly motivated individuals who are interested in expanding their leadership skills, deepening their sense of civic responsibility, and becoming more involved in the community as a whole.
A full day each month is dedicated to exploring the inner workings of the region's government, educational system, economic development, service organizations, regional issues, leisure and culture, health services, and public safety. Class members have the opportunity to learn about and practice skills critical to working with volunteers and groups in the community. Included in the program is leadership training which is unique to other leadership programs.
"I have seen the value in our Leadership Statesville program soar with the addition of Nicole and Vibrant Coaching," said Charles E. Ashe of the Leadership Statesville Advisory Board. "By offering more formalized leadership training we are enriching our program through the presentation of concepts that some of our participants have never been exposed to before. Nicole is empowering our future community leaders by providing additional tools for them to use and share."
Each year, class members work together on a project that benefits the area. This year the class decided to partner with the Chestnut Grove Community Center to help with needed updates to the center. At the graduation dinner the class presented the Center with a historical marker and new road sign.
The Chestnut Grove Community Center was built as a Rosenwald School for African-American students. The local community purchased the Center in 1970 where it has served as an event center for the area.
Former Leadership Statesville graduates currently sit on various Boards of Directors throughout the city and work to serve the area in continuing to build an outstanding community.
Leadership Statesville Class 2019-2020
♦ Carlos Navedo, Boys & Girls Club of the Piedmont
♦ Deb Lazenby, Mitchell Community College
♦ Mindy Rice, Hospice and Palliative Care of Iredell County
♦ Susie Miller, Sir Speedy Printing, Signs and Marketing
♦ Latoya Caesar, Partnership for Equity Iredell
♦ Andrea Lopresti, Iredell Charter Academy
♦ Jesus Gomez, Mitchell Community College
♦ Bryan Shoemaker, EnergyUnited
♦ Kali Moore, City of Statesville Recreation and Parks
♦ Andrea Sherrill, Cooperative Extension
♦ Shannon Viera, Greater Statesville Chamber of Commerce
Class of 2020-2021
Leadership Statesville Advisory Council will open the 2021 Leadership Statesville applications in the coming months.