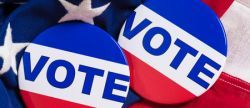 FROM STAFF REPORTS
More than 62,000 registered voters in Iredell County have already cast their ballots in the November 3 general election.
According to the N.C. State Board of Elections, 48,285 people have taken advantage of the six one-stop voting sites around the county. Another 14,216 voters have returned mail-in ballots.
The 62,501 ballots cast in Iredell represent 48.03 percent of the county's registered voters.
Across North Carolina, 3,411,850 ballots have been cast, representing 46.57 percent of registered voters in the state.
Early voting ends at 3 p.m. on Saturday, October 31. On Election Day, voters must cast their ballots in the precinct where they are registered.