"You don't have to be an athlete or entertainer to be successful." – Wendell Grinton Jr.
BY KARISSA MILLER
Wendell Grinton Jr. is making a name for himself after recently earning his master's degree in civil engineering at Virginia Tech.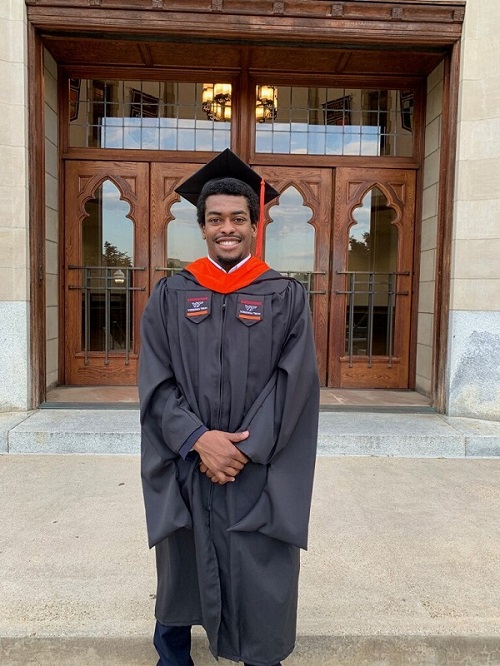 The 2014 North Iredell High School graduate is now working towards his doctorate in civil engineering at the university in Blacksburg, Va. He has received full financial support through a graduate scholars program, graduate research assistantship and through campus organizations like the Multicultural Academic Opportunities Program (MAOP) and New Horizons.
Grinton, who was born in Iredell County and grew up in Harmony, said he has always been interested in how things work and challenging himself, which led him to pursue an undergraduate degree in engineering at N.C. A&T University.
"I had family that attended prior to me going. I had read that A&T was a good school for graduating black engineers. I wanted to go to challenge myself," explained the 2018 cum laude graduate.
As a young student, Grinton struggled to find his academic footing in a community where few African-American families lived.
"I was the only one that looked like me and at times I did feel uncomfortable. I felt like there was extra pressure for me to succeed and to get good grades."
"A&T gave me that sigh of relief because it was the first time, I was around scholars that looked like me," he added. "With the pressure being taken off, it helped me excel and get to where I am today."
Grinton has also received hands-on experience after completing internships in Statesville with G.L. Wilson and Gilbert Engineering Company.
In the future, he hopes to work on large scale commercial construction projects and tie in his research to make them more energy efficient and environmentally friendly
Grinton also hopes to be a trailblazer of sorts.
"There are not a lot of people of color in engineering. I want to be able to change that narrative. You don't have to be an athlete or entertainer to be successful," he said. "You can change the narrative and change the way people perceive people of color by getting higher education degrees with scholarships."
Grinton said he's thankful for the community of support and love that has surrounded him throughout his life. He said that his mom, dad, extended family and his Sunday school teacher have helped him throughout his journey.
"Ms. Lenora, my Sunday school teacher, knew I wasn't comfortable speaking in large groups. I had stage fright," he recalled. "She had me recite all 66 books of the Bible in front of my church."
That experience gave him a newfound confidence and made him more comfortable with public speaking, a skill that has helped him with presentations throughout college.
He is the son of Wendell Grinton Sr. and Sherry Grinton. He has one younger sister Shanese. In his spare time, he enjoys volunteering, being a peer mentor and participating in intramural sports.