Special to Iredell Free News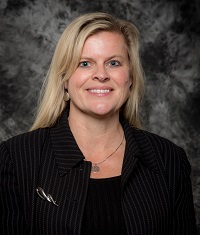 Sherry Ashley has been promoted to planning director for the City of Statesville.
Ashley, who has more than 25 year of planning experience and has served as the city's assistant planning director since 2006, succeeds David Currier, who retired last month.
"We are very fortunate to have someone with Sherry's understanding of our community's unique planning needs to fill this important position," City Manager Ron Smith said. "Her skill set is ideal for the growth expected for Statesville. She is a visionary who can also communicate her ideas effectively with the citizens, developers and leaders of our city."
Ashley said she is very excited about the new challenge.
"This is an important time for Statesville. We are working on a new Land Use Plan that will help guide our future growth areas," she said. "We also plan to focus on housing issues …. Our quality of housing and how we can provide better places for our citizens to live. I want to concentrate on development in south Statesville and continue working on the multi-use path along the Shelton Avenue corridor."
She understands that making these improvements are part of a team effort and looks forward to "continuing to work with council, fellow staff and having more engagement with the citizens. We need all their input."
"I love living here," said Ashley. "I love seeing the old get renovated, seeing things get better. I appreciate our history and believe that preserving our landmarks and neighborhoods are important. I love seeing our community thrive."
A graduate of Appalachian State University with a Bachelor of Science degree in Community and Regional Planning, Ashley is nationally certified from the American Institute of Certified Planners. She has also completed the Municipal Administration course through the School of Government at the University of North Carolina in Chapel Hill.
Ashley worked as the planning director for Mint Hill for 10 years, and before that was a planner in Union County for three years.
During her career, Ashley has worked with various regional planning groups and committees. Most recently, she served as chairperson of the Technical Coordinating Committee, which is the staff arm of the Charlotte Regional Transportation Planning Organization, and she helped the city earn the distinction of being one of the "Great Places" in North Carolina.