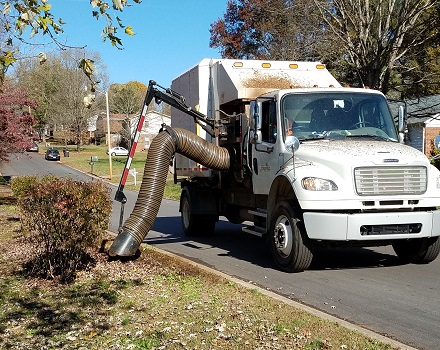 Special to Iredell Free News
Weather has delayed Statesville's curbside leaf collection, but crews should complete the third rotation through the City next week before making one more round.
Currently, crews are finishing up in Area Three and will move to Area Four by the end of the week.
Sanitation Superintendent Kevin Rankins said rain makes collection difficult when trying to vacuum up wet leaves and emptying trucks at a mud-covered landfill.
"But we are taking advantage of every good day," Rankins said.
Crews visit an area three times during curbside leaf collection season.
Depending on the weather, the last trek around the City will begin in Area One during the week of January 27.
"Even with delays, we are pleased with the progress we've made. We will continue working weekdays and Saturdays as weather allows," Rankins added.
There is a Quick Link on the City's homepage (www.statesvillenc.net) that connects the user to an interactive map where they can see what area they live in as well as the most up-to-date schedule.
Residents can also sign up for the weekly Sunday night call to receive updates and other important City information by calling 704-878-3583, registering online or emailing info@statesvillenc.net.
As a reminder, the City collects bagged leaves placed on the curb year-round. Bagged leaves should not be mixed with other yard debris or trash items.
If you have questions about leaf collection or any sanitation issues, please call 704-878-3415 or email info@statesvillenc.net.