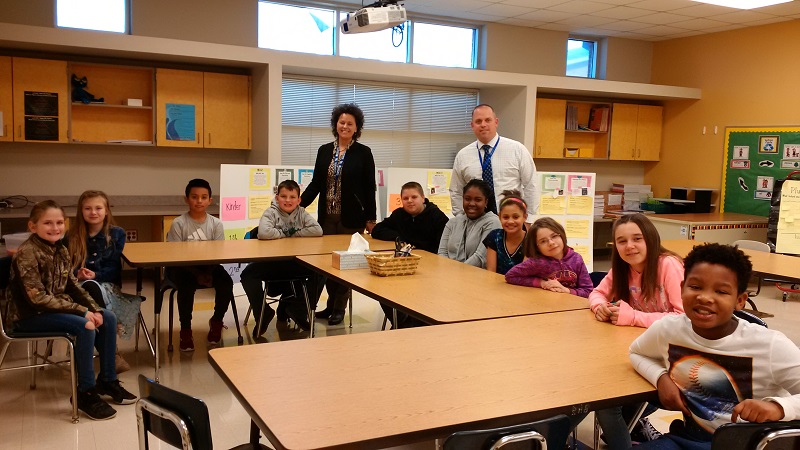 BY KARISSA MILLER
Cloverleaf Elementary School is officially an International Baccalaureate Primary Years Program.
"We are all so excited," Principal Andy Mehall said, expressing pride in the work teachers, staff and student have put in. "We cannot wait to have a ribbon-cutting ceremony when we can all get back together."
Cloverleaf Elementary is the second school in Iredell-Statesville Schools to achieve the recognition, marking a nearly three-year journey.
IB representatives conducted a thorough audit in January to verify Cloverleaf has implemented the IB curriculum into its lessons and activities.
During that site visit, students answered questions drawing on their own knowledge of the IB program. Mehall said the school's Lighthouse team, which is comprised of the student leaders, did an outstanding job.
Superintendent Brady Johnson has visited Cloverleaf on numerous occasions, and each time he became "excited to see how engaged the students there were."
Students who are immersed in the IB PYP learn to apply what they are learning, while also teaching students to be accepting of other cultures and people.
"I think it will have a tremendous impact on the school. I'm thankful for the board of education for their vision of IB in the community and their support of this program," Johnson said.
The superintendent has seen the IB program positively transform school culture in the southern end of the county. He hopes to develop a culture of well-rounded students from elementary schools all the way up to high school and beyond in the Statesville area.
"It gives Statesville a full continuum now of kindergarten through eighth grade. Statesville High School will be coming online as an IB diploma program," Johnson said.
IB is important because it has helped foster high expectations for both teachers and students, Mehall said.
Cloverleaf has a high population of students that receive free and reduced lunches. Students who live in poverty have a difficult time separating from the daily struggle outside the school, Mehall explained.
"An IB education allows them to have hope for a prosperous future. We are developing students that have empathy, world vision and are well-rounded students," he said.
Students are taking action in their community in small ways, Mehall said, such as collecting items to donate to the local animal shelter or collecting cans for students that need extra food in their homes.
Mehall said that having choice programs like IB is vital to the growth of the community.
"We can see that the industrial and business sectors have changed as a whole over the past two decades, as has the education system," he said.
Having a strong IB program prepares our students for jobs of the future and help students become creative thinkers and good citizens.
"They will be our upcoming leaders, bringing Iredell County forward into the future," Mehall said.