BY DEBBIE PAGE
debbiepage.iredellfreenews@gmail.com
More than 300 Jeep enthusiasts created a special birthday surprise for 8-year-old Caleb Carr on Thursday morning in Troutman.
The Aberdeen Drive cul-de-sac became a colorful parade route for a colorful array of vehicles, many decorated with balloons and signs, and well-wishers shouted birthday greetings to the thrilled birthday boy.
Jeep fans from all other the Piedmont area began lining up at the Lowe's parking lot at Exit 42 over an hour before the parade time.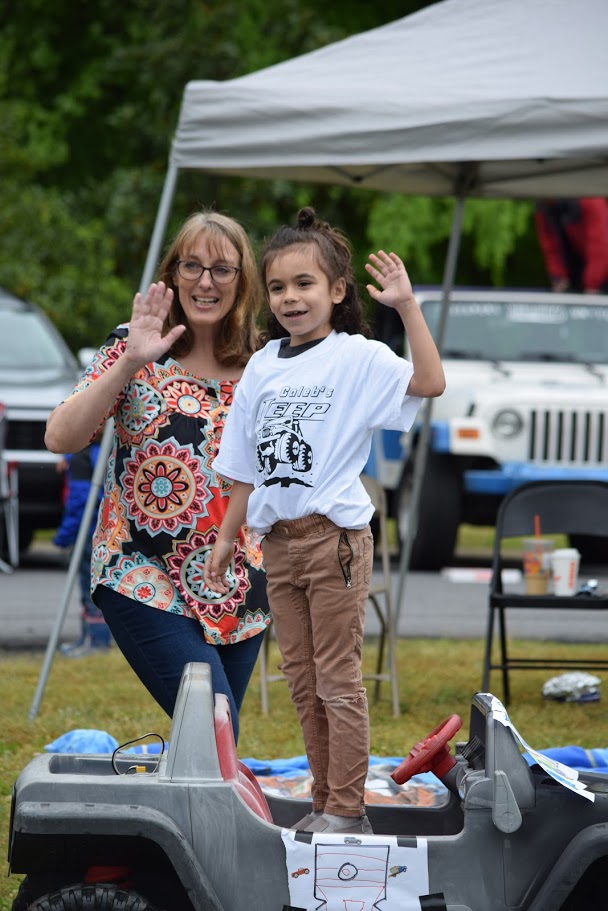 Because Caleb loves Jeeps, his mom Heather Carr posted a message last week on a Jeep forum asking if a few neighbors would consider driving by and waving since a birthday party is not possible amid the governor's stay-at-home order.
Carr never dreamed that her request would snowball into a 45-minute parade, complete with an overflowing barrel of gifts from kind parade participants.
A special needs middle school teacher at American Renaissance School and mother to seven kids ages 4 to 25, Carr wanted to find a way to make Caleb's birthday special. She got the idea after a chance meeting with a Troutman police officer on her daughter's 14th birthday.
"We were outside, and a police officer just happened to be driving down the street. I flagged him down and asked him to use his megaphone to announce she's 14 to embarrass her to death because I thought that would be fun."
Not only did the officer announce it, he sang "Happy Birthday" to her. After that cool moment, the pressure was on to think of something special for Caleb's birthday two weeks later.
Caleb was born with an array of health problems, including being on the autism spectrum. Though he is high functioning in his regular classes at American Renaissance School in Statesville and an avid reader, Carr said Caleb had sensory issues, necessitating that parade participants not blow their horns or make other sudden noises that might affect him.
Carr came up with the idea of a Jeep parade because Caleb "has always loved Jeeps because they have a fifth wheel." She joined a Jeep forum on line, asking anyone with cabin fever to consider driving by on Thursday.
"I thought I would get a couple of guys driving by in a Jeep. Then it took off."
Jeep owner Alan Glickman took over as the organizer of the event, which blossomed into two parades, one at 11 a.m. and one at 6:30 Thursday evening.
"It's been an unbelievable, amazing outpouring of support for this little guy," added Carr.
In addition to Jeeps, Caleb was excited to see a monster truck, a motorcycle, and some classic cars join the celebration too. He was also thrilled when he was gifted two inflatable wheels, Jeep T-shirts, balloons, signs, and other gifts.
After the event, Glickman commented that he counted 309 vehicles. "Considering most vehicles had at least two occupants, that's over 600 -lus people smiling today! We still have tonight's event. Police advised me that they wanted to shut it off after about 150 passed, but they didn't have the heart to do it!"
"Caleb waved to every single vehicle and was smiling the whole time. The donation bucket was full, and we still have the 6:30 p.m. group!" Glickman added.
Having moved to Iredell County in August from Florida, Carr was grateful the community came out to support Caleb, who also loves his basset hound "Mater" and his sister's dog "MoMo."
Caleb plays soccer, with his mom, who has coached recreation soccer for 15 years, as his team coach. Unfortunately, his soccer season ended early with the advent of the COVID-19 virus outbreak.
The family has fallen in love with Troutman and Statesville. Carr's parents and sister moved to Mooresville from upstate New York several years ago, and Carr and her four children still at living home moved here to be closer to them.
Carr's 18- and 23 year-olds are still in college in Florida, and her oldest daughter lives in Hickory and helps with babysitting her 4-year-old brother and online lessons with the rest of the brood.
"I don't think I've ever lived anywhere with people who are so nice, so kind-hearted. I am blown away by the community support."
"Words cannot express honestly how incredibly thankful I am for being adopted into this community and the Jeep community. I want to go out and buy a Jeep just so I can hang out with these people!"
"The overwhelming love that have shown us is so appreciated. It's been a rough couple of years in my family, and being able to turn it around and have something like this, this kind of support, I don't know the words."
Photo Gallery