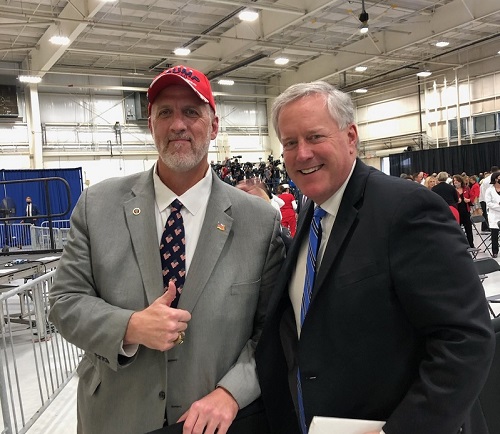 BY KARISSA MILLER
Iredell County Commissioner Gene Houpe recently attend an event in which President Donald Trump signed an executive order implementing his America First Healthcare Plan.
""I was honored to be invited to President Trump's announcement and signing of his new America First Healthcare Plan in Charlotte," Houpe said. "It was an honor, for sure. The invitation came from the White House."
The event was held inside the Duke Energy Hanger in Charlotte on September 24.
Trump was joined by U.S. Secretary of Health and Human Services Alex Azar and Centers for Medicaid and Medicare Services Administrator Seema Verma.
The president said his America First Healthcare Plan aims to protect people with pre-existing health conditions and focuses on providing more choice, lower health insurance premiums and improve transparency in prices.
During his speech, Trump also mentioned that his staff worked to eliminate the individual mandate under the Affordable Care Act that required all Americans, with some exceptions, to have some form of health insurance coverage or face a tax penalty.
The president also briefed the crowd on the coronavirus vaccine.
"Four vaccines are now in the final stage of clinical trials. They're just about at the end. A lot of things are looking very good," he said.
A "safe and effective" vaccine will be distributed before the end of the year — maybe even sooner, he said — that will defeat the coronavirus and end the pandemic.
Houpe said he supports Trump's willingness to try and positively impact healthcare policy changes.
"The executive order doesn't change the law. It puts some directives in place that will help future legislation and help change some of the negativity that the people see out there and that Americans hear in healthcare," Houpe explained. "Some of the changes he named are improvements to the Affordable Care Act. I think that it's positive overall, at least from my perspective."
During the event, Houpe spoke with White House Chief of Staff Mark Meadows, Louisiana Sen. Bill Cassidy, and Michael Whatley of the North Carolina GOP, as well as other lawmakers and Lincoln County Commissioner Anita McCall.
"It's always an honor representing Iredell County and our region," Houpe said.
Houpe serves as the District 12 Director for the N.C. Association of County Commissioners, which represents Iredell, Gaston, Cabarrus, Lincoln, Mecklenburg, Rowan, Stanly and Union counties.
He is one of only two Iredell commissioners to be elected to the NCACC board. The other commissioner was Alice Stewart in the 1990s, Houpe said.
"As an elected official, being on different boards from my perspective allows me to advocate for our county and for our region. In turn, this provides opportunities to learn about grants and other types of funding with airports, road projects, schools, etc.," Houpe said.
He said that it also gives him a better chance to promote the county and share citizens' concerns with federal and state lawmakers.