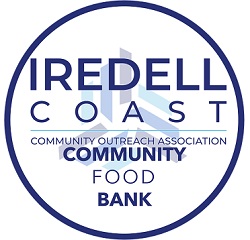 Special to Iredell Free News
The Iredell Community Outreach Association (COAST) will open its highly anticipated food bank to the public on Thursday, October 1, from 12 to 2 p.m. The food bank will be open Monday – Thursday from 12 to 2 p.m. daily.
Anyone needing assistance will need to arrive to fill out an application and will need identification, Social Security cards, and proof of income for everyone in their household. Applications will be processed until 2 p.m.
Iredell COAST is pleased to bless our community through the mission of our charitable Resale Shop & Community Food Bank, located at 833 N. Center Street in the Forest Heights Shopping Center in Statesville.
The resale shop is open Monday – Friday from 10 a.m. to 6 p.m. and Saturday from 10 a.m. to 3 p.m. Donations are always accepted (new or gently used items for the resale shop, not including clothing, and non-perishable food products for the food bank). Monetary donations are also welcomed to help offset overhead expenses.
LEARN MORE
For more information, please contact the Iredell COAST at 704-755-4610 or email director@iredellcoast.com