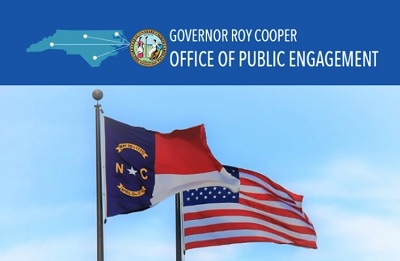 BY DEBBIE PAGE
debbiepage.iredellfreenews@gmail.com
The COVID-19 outbreak is having a disproportionate effect on African-American, Hispanic, Latinx and American Indian populations.
That was the undeniable takeaway from a virtual information session held this week by Gov. Roy Cooper's Office of Public Engagement (OPE) to highlighting the impact that the coronavirus is having on Communities of Color.
N.C. Department of Health & Human Services Deputy Secretary Benjamin Money detailed the disparate impact, noting that while African-Americans make up 21 percent of the population, they represent 38 percent of the infections and 30 percent of the deaths. (The latest NCDHHS stats, which were released Friday, showed the percentage of infections at 39 percent and percentage of deaths at 36 percent.)
Communities of color are more at-risk for experiencing serious complications from COVID-19 because of their higher rates of chronic disease, including diabetes, heart disease, respiratory disorders, and high blood pressure, compared to the Caucasian population.
People of color are also less likely to have health insurance and access to quality health care and prompt treatment.
These disparities are longstanding and pervasive in both the country and North Carolina, predating the current pandemic, added Money. NCDHHS has focused much of its efforts on these populations because in most every health measure, communities of color fare much worse.
Since people of color are overrepresented in low-wage, frontline jobs with frequent public contact, they are at an increased risk for COVID-19 exposure. They generally make less than a living wage, so they also often have second jobs which further increase their chances of contracting the virus.
Because these jobs rarely offer benefits and sick leave, if employees do not report for work, they lose their wages and possibly their jobs. These frontline jobs most likely do not offer work-at-home possibilities and involve more physical labor.
These communities also often depend on older relatives for childcare, increasing exposure opportunities for these senior citizens from younger, asymptomatic virus carriers.
Mental health concerns also exist. The stress of living paycheck to paycheck and potential job loss, as well as the fear of infection, hospitalization without insurance, and even death, increases the chance of mental health issues, substance abuse or relapse, and interpersonal or domestic violence.
Living in low socioeconomic areas also increases the risk for people of color to become victims of violent crime as economic pressures of job loss and bills rise.
Even wearing a face mask to protect themselves against COVID-19 exposure, according to Money, exacerbates the misperception of African-Americans as a threat.
Money said the state must focus resources to achieve health equity. Building stronger communities includes jobs that pay a living wage, effective sex education, fair and affordable housing, equitable lending practices, access to quality primary and preventative health care, affordable healthy nutrition, and quality education.
To combat the serious health issues arising from the coronavirus, Money said NCDHHS has taken several actions, including promoting social distancing strategies, ordering supplies, personal protective equipment (PPE), and ventilators, expediting federal funds for benefits and services, and communicating pandemic information and safety measures through social media, virtual meetings, TV and radio public service announcements, and press releases to media outlets.
MINORITY OWNED BUSINESSES
Historically Underutilized Businesses (HUB) Director Tammie Hall called minority and women owned businesses the "bedrocks of the community" that "drive economic vitality, growth, and development in our community."
These businesses are hiring neighbors, improving schools, and creating opportunities for "second chance" populations. Though challenges for small businesses during the pandemic are many, Hall is optimistic that "minority owned businesses will be innovative, creative thinkers."
Hall explained that when "big businesses get a cold, minority businesses get pneumonia." To get a clear picture of the situation, HUB quickly conducted an impact study of minority-owned business employing 50 or less to assess needs.
The March 23 survey elicited 357 responses submitted over four days. Over 90 percent of respondents indicated that their business has been impacted by COVID-19. Sixty-two percent of respondents indicated their hours were reduced or their business had closed.
Businesses reported many different kinds of losses and impacts, including bills, cancellations, childcare needs, client payments, demand decline, lack of supplies, lost investors, reduced staff, schedule delays, slow delivery of supplies, staff safety concerns and travel issues. Many businesses reported multiple losses or impacts.
Impacts from the pandemic began to affect businesses in March, with 64 percent of respondents laying off workers and all types of businesses reporting revenue losses, ranging from $5,400 in the cleaning sector to nearly $76,000 in the construction sector, at the time of the survey.
The agency also quickly formed partnerships with the Small Business Administration and Department of Commerce to communicate the problems affecting 1099 employees and sole proprietorships.
FROM THE FRONT LINES
Dr. Charlene Green of the Old North State Medical Society, whose mission is to advocate for quality healthcare for all North Carolinians and particularly for those in vulnerable communities, spoke about the impact on communities of color.
As an anesthesiologist, Green is on the frontline working with hospital teams who are "doing their very best, working hard, so tired, but here to save your life."
Green is "hoping you would do your part to save your life and ours." The stay-at-home order has saved and will continue to save lives, added Green, who urged people to be patient and care about saving the lives of their families, themselves, and healthcare workers.
Greg Richardson, executive director of the N.C. Commission on Indian Affairs, said the pandemic has "set our American Indian community on its heels with new challenges."
His agency is working to provide aid and protection where it can, including housing, workforce development, and domestic violence assistance.
Richardson also urged American Indians to protect themselves and the community by practicing social distancing, washing their hands, and looking out for their elders.
Nineteen American Indians have been diagnosed with COVID-19 in North Carolina thus far, a concern for Richardson because they often live in isolated and rural areas that lack critical healthcare. In addition, strokes, cardiovascular disease, and diabetes often affect this population, making them more vulnerable to complications.
Richardson said the closing of schools, businesses, daycares, and support networks and the canceling of events important to the sustainability of the tribal community have also impacted American Indians both economically and culturally.
American Indian communities are lacking coronavirus testing, healthcare access, and PPE. Internet access concerns are also affecting students' ability to complete school assignments during this time of online learning.
The commission has created PSAs and materials to help it connect with and educate the American Indian community about the virus and proper safety measures as well as to disseminate information about applying for financial assistance for businesses, organizations, and individuals.
The agency is also seeking funding options for testing kits and PPE. Housing and Urban Development funds are already coming in.
INCARCERATED INDIVIDUALS
Jeremy Collins, director of the Office of Public Engagement, said a plan to consider releasing some incarcerated individuals is being developed. Those eligible for consideration would be persons who did not harm another person, those scheduled to leave prison in 2020, or those in vulnerable populations.
About 500 persons would be considered for release, with public health and safety first in mind as these decisions are being made.
VOLUNTEER EFFORTS
Caroline Farmer, executive director of the N.C. Commission on Volunteerism and Community Services, thanked all community members engaged in helping their neighbors. She especially thanked the Charlotte NAACP chapter and the Zakat Foundation for making masks for nursing homes, social service agencies, and others in need of them.
Farmer asked that groups working on such projects to notify their county emergency services agency "to let them know of the need you are fulfilling."
She also said nonprofits could get reimbursement from FEMA for the materials purchased to make the masks by completing the process and application outline HERE.
Volunteers are still needed for Meals on Wheels programs, food banks, and local pantries across North Carolina to provide crucial community assistance. While wearing gloves and masks, practicing social distancing, doing frequent hand-washing, and avoiding face-touching, folks can still safely reach out to help their communities.
For information on service opportunities in their area, visit volunteernc.org for a variety of services roles.
Financial assistance resources for nonprofits and churches, including the Paycheck Protection Program and the Economic Injury Disaster Loan Emergency Advance, can be found HERE.