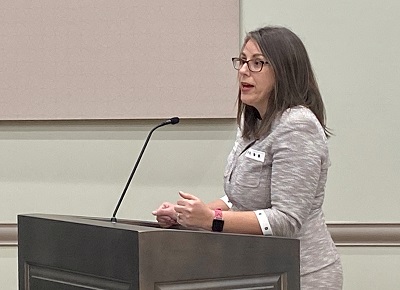 FROM STAFF REPORTS
Iredell-Statesville Schools Board of Education Chairman Martin Page opened Monday's Board of Education meeting by asking for a moment of silence, during which he encouraged those in attendance to pray for divisions facing the nation, for social healing, and for our children.
Soon after, five members of the community spoke out against word that the district plans to cut the position of Equity and Engagement Officer, currently held by LaToya Caesar.
Citing student achievement and discipline gaps that exist in some district schools, local attorney Kaleigh Darty questioned why the district would consider eliminating a position that focuses on closing those gaps.
"Racial tensions are having a severe impact on children of color, and in the midst of a global pandemic when children have been out of school since March, our nation is crying out for increased representation and diversity," Darty said.
Referencing the all-white, all-male board, Darty added that "Just by looking at you, I know you cannot adequately represent the needs of our diverse and minority students."
Following those public comments, board member Bill Howell stated, "We have not recommended cutting any position at any time. I don't know where that came from," apparently in reference to the equity role. No other board member commented on the issue during the meeting.
Near the end of the meeting, Superintendent Brady Johnson read a statement that he said would be sent to parents on Monday evening, vowing that efforts to achieve equity must remain a priority for the district. (Read the entire statement HERE.)
"I-SS remains committed to fighting systemic racism and violence through conversation and education. We collectively realize that we must, as an educational institution, put our words into action. Educators can't do that work unless they have a thorough and complete understanding of institutional racism and steps that they can take to address it," Johnson said.
The superintendent, whose last day is June 30, cited district efforts in beginning that work, like professional development for the coming school year around closing achievement gaps and community education through Partnership Equity Iredell, which he called on the district to continue.
"I-SS believes it is our job to promote an environment that educates all our children and promotes outcomes for all children. We as a school system are eager to continue that work. Each of us has a role to play and I-SS is committed to this journey," Johnson said.
Speaking during the public comment period, Greater Statesville Chamber of Commerce President Shannon Viera noted that Caesar, in her role with the district, has promoted community partnerships, workforce development, equity education and programs for ReSTART schools, and requested that the board retain the position.
"Now is the time to bring community stakeholders together. We need intentional, constructive and focused action on equity," she said.
The current tensions over racism and disparities make the position of an Equity Officer essential, said I-Care Executive Director Bryan Duncan.
"Given everything that is happening in our world, we need this position more than ever," he said. "It is full-time work that cannot be tacked onto the duties of someone else."
Statesville Branch NAACP President Todd Scott said he is calling for board members and incoming Superintendent Jeff James to work with the organization toward a goal of a more equitable future for students and the district.
"We must put our kids first in every decision," he said. "I-SS has made some progress, but it's not enough."
Our Schools First President Beth Packman noted that Mooresville Graded Schools has had Diversity and Inclusion Specialist for several years. Packman said the nonprofit has made "a conscientious decision to emphasize racial equity as a very critical aspect of the platform that drives our organization. We want to see racial equity to become an important component to your educational plan, including goals and metrics that track growth and change."
At the conclusion of Monday's meeting, the board voted to go into closed session to discuss personnel issues.