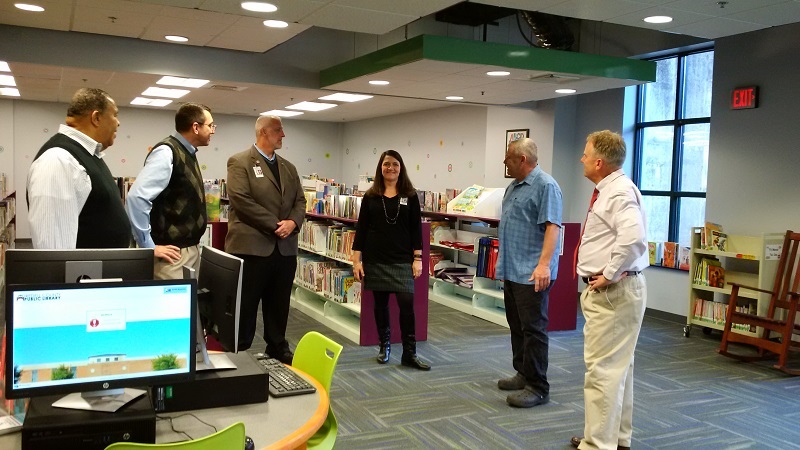 BY KARISSA MILLER
The Iredell County Board of Commissioners toured the downstairs portion of the Iredell County Public Library during the board's annual retreat on Friday morning.
Executive Director Julianne Moore gave commissioners a firsthand look at the changes that the board approved throughout the lower level ahead of their open house event.
County officials discovered potentially harmful vapors that contained tetrachloroethylene, also known as perchloroethylene or PERC, associated with a dry-cleaning solvent and linked to causing cancer in humans found in the air of the children's section of the library two years ago.
The library staff relocated the first level and closed the Youth Services Department as a precautionary measure.
During follow-up testing, the state dry-cleaning solvent team found the levels fell below the level deemed unsafe.
"Nothing was dangerous, but with it being a public building there weren't any recommendations on what to do," Moore said.
Commissioners approved spending $408,000 to pay for protective measures and to reassure the public that the downstairs is safe.
Construction work, which took place in phases, included taking out the front wall of the library and all of the flooring and applying a Retro-coat, which prevents vapors from passing through it, and then scaling it.
The state dry-cleaning solvent team is continuing to monitor and test the area to ensure the barrier is working, county officials said.
Remodeled Youth Services Department
The Youth Services Department features a new layout, new concept and offers a whole new experience for patrons and employees alike.
The new colors are greys, blues and greens. The gray carpet squares have vibrant color splashes throughout the design.
There is a rolling book display, which provides young readers with an easier way to select something to read as they can see the front cover of several books at one time.
Another upgrade is flexible seating furniture that allows kids to choose where they read. It also allows them to change their location and position as needed.