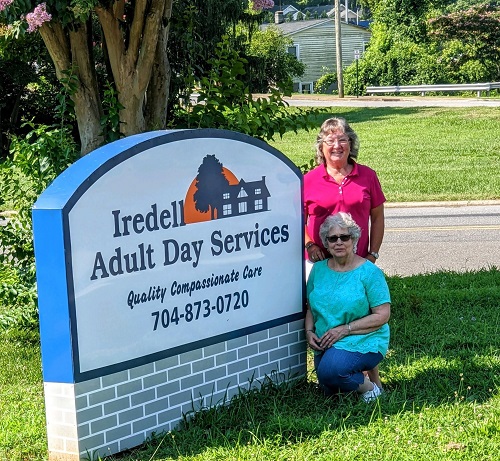 Special to Iredell Free News
ElderCenter has rebranded as Iredell Adult Day Services.
The organization is legally registered as ElderCenter Inc. and will continue to use that name, as it has for the past 32 years, while marketing itself as Iredell Adult Day Services.
The name change was implemented in January, but the nonprofit waited until July to announce the change so it could hold off kick-off a Port-A-Pit fundraiser on Friday, July 24.
Port-A-Pit will be grilling chicken at Iredell Adult Day Services, located at 502 Brevard Street in Statesville, on Friday July 24, from 11 a.m. to 2 p.m. Stop by to pick up lunch or dinner of half a chicken, beans, slaw, bread and a dessert for only $10 a boxed lunch. Delivery is available for orders of eight or more dinners. Call 704-873-0720 to reserve your order today.
Due to the COVID-19 pandemic, the nonprofit had to cancel several fundraising events, which help cover the costs of operations and activities. Many members are on scholarship through a program that only provides 70 percent of the costs per client.
More families are caring for loved ones at home, either to keep them close to family and comfortable in their own home, or due to lack of funds to provide home health care or assisted living costs. That's where Iredell Adult Day Services helps. The staff watched adults with dementia, Alzheimer's or other conditions to enable caregivers to work, get respite, take a break or take care of other family responsibilities.
Over the past few months, members have been asked to shelter in place as instructed by state leadership. During Phase 2, the nonprofit is open on a limited schedule allowing for us to disinfect at the end of the day.
According to the nonprofit, many members have had a very hard time staying in place. Routine is important to them and COVID-19 interrupted their daily routine.
The nonprofit requires face coverings, frequent handwashing, the use of sanitizers and social distancing.
The nonprofit's new name, Iredell Adult Day Services was originated last year, when ElderCenter's board and administrative staff gave careful thought into the process of changing it to reflect more accurately the services they provide and the individuals they serve.
As the needs of the Iredell community evolve, it was apparent that the name "ElderCenter" did not best describes its membership. Participants range from individuals who enjoy being actively engaged and seeking companionship during the day to our more physically or memory challenged adult members of all ages.
LEARN MORE
For more information, call Iredell Adult Day Services at 704-873-0720, visit ElderCenterAdultCare.org or stop by at 502 Brevard Street Monday-Friday from 8 a.m. to 5 p.m.