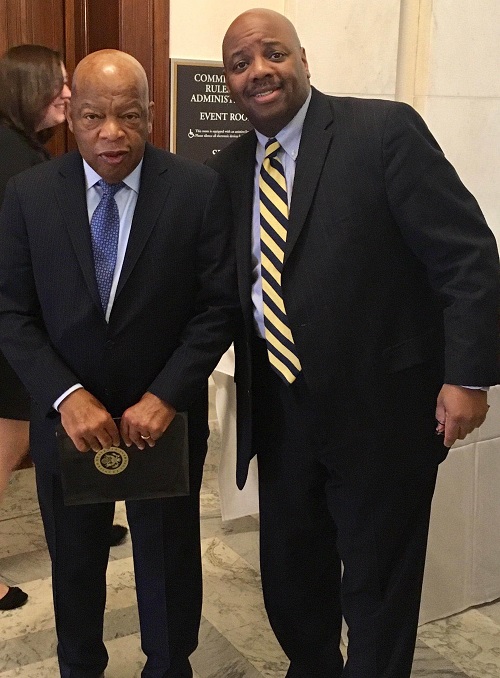 BY BRIAN SUMMERS
Today, we learned of the passing late last evening of Congressman John Lewis, an icon and giant of the Civil Rights Movement and life-long advocate for voting rights. I remember reading about civil rights and the struggle for equality in this country from the time I was a kid. Once day, on a mid-afternoon walk between the U.S. Senate and the Rotunda, I looked up and near the statue of George Washington I saw a bald gentleman was heading my way. I knew that he was a member because his Congressional pin shined but as he approached I noticed it was this giant of the Civil Rights Movement, Rep. Lewis. I greeted him with the term I had learned from my brief time in Atlanta at Ebenezer Baptist Church, the famed home church of Dr. King and his family.
I said, "Sir."
And he replied, "Young man."
I said that it was a pleasure to see him and that I wanted to thank him for my job. He looked at me, puzzled. He said, "Do you work for me? Did I hire you?"
We laughed and I said, "No, but in a way, yes." I explained that I owed my opportunity to work on the Hill to the doors that he and others in the movement had fought to open. I mentioned to him that I had recently led an effort in my hometown to name something for Dr. King and that it had passed with black and white votes. I told Rep. Lewis that I would love to tell him about it over lunch.
He said to call his office and set it up and I could tell him about the little trouble I caused in Statesville. A few weeks later we had that lunch in the Members Only Dining Room of the Capitol. During our 90-minute lunch, I told him how the Statesville City Council had renamed a park for Dr. King. When I told him that I was a Republican, Rep. Lewis said, "We still need all sides to make this country what it should be for all."
If it weren't for the struggle and hard work of Rep. John Lewis and others, I would never have had the opportunity to work as senior staffer in the U.S. Congress or at the White House.
Thank you, Congressman Lewis, for paving the way with the Civil Rights Act and Voting Rights Act, and for making our world a little better.
Brian Summers is a native of Statesville. He works as a senior advisor in the U.S. Senate.