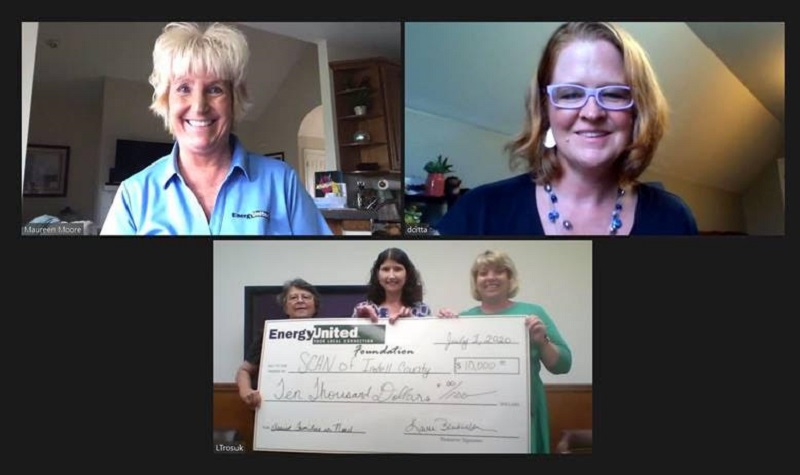 Special to Iredell Free News
The EnergyUnited Foundation recently donated $10,000 to Stop Child Abuse Now (SCAN) of Iredell in support of the nonprofit organization's efforts to establish an emergency fund for local families.
SCAN of Iredell, which announced this week it was rebranding as Pharos Parenting, offers weekly in-home visits with a trained parent aide which promotes education and long-term support for local families. The overall goal is to promote a safe and healthy environment for all children. The organization also offers parenting classes and workshops, such as Love and Logic, Nurturing Parent and Triple P. In response to the economic downturn that has resulted from the COVID-19 pandemic, SCAN is also now working to establish an emergency fund for families.
"Often our families have a temporary need such as food or medicine and this fund will enable us to assist them when they need it most," said Amy Eisele, executive director of SCAN of Iredell. "We hope to be able to expand our community outreach through this program. We really appreciate the cooperative's support."
The donation is part of a concerted effort by the EnergyUnited Foundation to extend emergency relief to communities within its service area as individuals and families work to overcome the financial challenges that have resulted from the COVID-19 pandemic.
"The EnergyUnited Foundation has now awarded more than $45,000 to nonprofit organizations over the previous three months in response to the pandemic," said Debra Citta, EnergyUnited Foundation administrator. "We are proud to support community partners like SCAN of Iredell and we couldn't be more supportive of their mission to Stop Child Abuse Now."
The EnergyUnited Foundation is a voluntary, member-funded non-profit organization supported by EnergyUnited's Operation Round-Up program. Over 70,000 EnergyUnited members choose to participate in the program by 'rounding up' their electric bills each month. The maximum monthly contribution for an individual member with one account is 99 cents. Each of these small contributions are pooled together in a single fund managed by the EnergyUnited Foundation to support needy individuals, families, and essential nonprofit organizations that complete an application explaining the reason and purpose for their requested grant.
About EnergyUnited
EnergyUnited Electric Membership Corporation (EMC) is the largest electric cooperative in North Carolina serving more than 130,000 metering points. Headquartered in Statesville, EnergyUnited provides electric service in portions of nineteen counties in west central North Carolina which include Alexander, Cabarrus, Caldwell, Catawba, Davidson, Davie, Forsyth, Gaston, Guilford, Iredell, Lincoln, Mecklenburg, Montgomery, Randolph, Rockingham, Rowan, Stokes, Wilkes and Yadkin. EnergyUnited Propane provides products and services to more than 23,000 residential, commercial and industrial customers in 100 counties across Virginia, North Carolina and South Carolina. Visit EnergyUnited online at www.energyunited.com to learn more about the cooperative's electric and propane businesses.