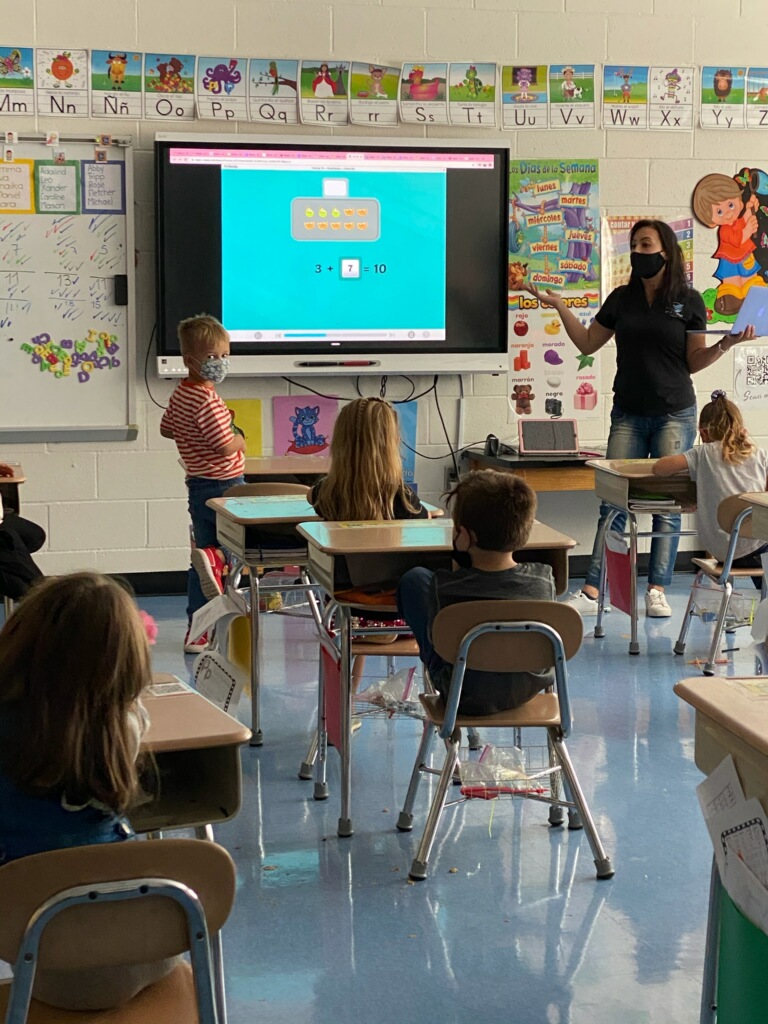 BY KARISSA MILLER
When it came time for Beth Seidl to enroll her two sons in an Iredell County school for the first time, she and her husband wanted a safe, caring school environment.
"We left a military community. It's something you can't easily replace. It's been huge for our boys and family especially during a pandemic and having been out of school since March," she explained. "My oldest child has had a difficult time with the move and pandemic."
One thing, they explained, that distinguished Lake Norman Elementary School from other schools was Principal Nichole Tilley's dedication to new families.
"Nichole was there from the beginning. She personally gave us the tour of the school. She didn't pass it off to someone else. She took all the time in the world to answer the questions," Seidl said.
"Lake Norman went above and beyond to make us feel welcome. This is from multiple people who enrolled the same time as we did," she added.
Two of her three children, James and Henry, now attend Lake Norman Elementary, which offers a dual immersion Spanish program.
Enrollment has ballooned to 620 students as of November 2 from 452 at the start of last school year. LNE had 11 students enroll in October, with a lot of families interested in a virtual tour.
Bucking current trends, elementary school enrollment is growing in Iredell-Statesville Schools system even during the pandemic. More parents like the Seidls are increasingly taking advantage of the growing number of choice programs offered by public schools.
While James is not part of the Spanish DI program (since he's older and it begins in kindergarten), the Seidls felt that it was a good fit for him.
"Every single staff member from the custodian to counselor to their actual teachers are genuine and kind people. They take the time to get to know each student as an individual," his mom said.
A greater community emphasis, a preference for the Spanish DI program and the school staff and leadership were all reasons parents cited for sending their children to LNE.
Tilley said that they have found their niche of having a family-like feel, while having strong academic programs like all the other district schools.
"I think part of it is continuing to share our story. Facebook has been an outlet. Although I'm no social media guru, it's been a learning place for me. We have an Instagram account, too," Tilley said.
However, it's not just Tilley sharing LNE's story. She credits the parents of her students.
"I have a lot of parents sharing out in the community. Encouraging families see the positive things going on in the school. I attribute a lot of our enrollment that," Tilley said.
As the school leader, she wants every child to always feel like they are important and that she knows their name no matter how much they grow.
"We pride ourselves on being one big dolphin family. We still want families to know that we will continue to have that family feel. I want every student to know that I know their name and know that I will greet them every day," she said.
During the pandemic, Tilley has offered virtual tours to prospective families. She has also created a packet, which contains everything from information about the area and relators to community resources for new families.
According to I-SS Director of Communication and Development Boen Nutting, kindergarten enrollment is down significantly across North Carolina.
Nutting said that LNE and other I-SS schools have managed to maintain a steady kindergarten enrollment. In fact, some families are already asking about enrollment for next year at LNE.