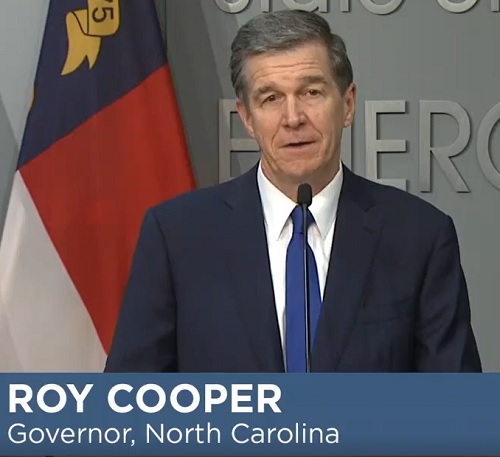 FROM STAFF REPORTS
Gov. Roy Cooper issued a "stay-at-home" order on Friday, directing North Carolina residents to venture out only for essential purposes in an effort to combat the spread of COVID-19.
The order takes effect at 5 p.m. on Monday, March 30, but Cooper urged residents to "start as soon as you possibly can." It expires on April 29.
Lawful reasons for leaving home include going to work, shopping for food and medicine, particiating in outdoor exercise and helping someone else. Gatherings of 10 or more people are prohibited under the order.
"These are tough directives, but I need you to take them seriously," the governor said.
As of Friday, 763 cases of COVID-19 have been reported in a total of 60 counties in North Carolina, and three deaths in the state have been attributed to the novel coronavirus.
Fifteen cases have been reported in Iredell County, according to the N.C. Department of Health & Human Services.
"Because no one is immune, because there is no vaccination, the best scientifically proven tool we have to slow the spread is keeping our physical distance and staying at home," Cooper said. "We have to act now in the safest, smartest way while we have a chance to save lives.
"It is truly a matter of life and death."
Dr. Mandy Cohen, DHHS secretary, praised the governor for acting "decisively in the face of devastating consequencies."
Cohen said the "stay-at-home" order would help flatten the curve and prevent hospitals from being overwhelmed by patients. Between February 12 and March 16, between 20 percent and 30 percent of the people diagnosed with COVID-19 in the U.S. were hospitalized, she said.
"We do not have the luxury of time," Cohen said. We must act quickly in what we do know to slow the spread of the virus."